Search by Name
Alabama Inmate Search
AL DOC Information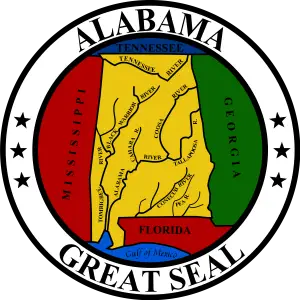 Authority: Alabama Department of Corrections
Website: http://www.doc.state.al.us/
Address: 301 South Ripley Street, Montgomery, AL 36130
Phone: 1-855-WE-R-ADOC
List of Jails and Prisons in Alabama
| Name | City | Address | State | Type | Phone Number | Locator Link |
| --- | --- | --- | --- | --- | --- | --- |
| Federal Correctional Institution, Aliceville | Aliceville | 11070 AL-14, Aliceville, AL 35442 | Alabama | Federal | 205-373-5000 | Click Here |
| Federal Correctional Institution, Talladega | Talladega | 565 E Renfroe Rd, Talladega, AL 35160 | Alabama | Federal | 256-315-4100 | Click Here |
| Federal Prison Camp, Montgomery | Montgomery | Maxwell Air Force Base, Montgomery, AL 36112 | Alabama | Federal | 334-293-2100 | Click Here |
| Bibb Correctional Facility | Brent | 565 Bibb Ln, Brent, AL 35034 | Alabama | Prison | 205-926-5252 | Click Here |
| Bullock Correctional Facility | Union Springs | 104 Bullock Drive, Union Springs, AL 36089 | Alabama | Prison | 334-738-5625 | Click Here |
| William E. Donaldson Correctional Facility | Bessemer | 100 Warrior Lane Bessemer, AL 35023-7299 | Alabama | Prison | 205-436-3681 | Click Here |
| Easterling Correctional Facility | Clio | 200 Wallace Drive Clio, AL 36017-2615 | Alabama | Prison | 334-397-4471 | Click Here |
| Elmore Correctional Facility | Elmore | 3520 Marion Spillway Rd. Elmore, AL 36025 | Alabama | Prison | 334-567-1460 | Click Here |
| Fountain Correctional Facility | North of Atmore | 9677 AL Hwy 21 N Atmore, AL 36503 | Alabama | Prison | 251-368-8122 | Click Here |
| Hamilton Aged & Infirmed | Hamilton | 223 Sasser Drive Hamilton, AL 35570 | Alabama | Prison | 205-921-7453 | Click Here |
| Holman Correctional Facility | Atmore | 866 Ross Road Atmore, AL 36503 | Alabama | Prison | 251-368-8173 | Click Here |
| St. Clair Correctional Facility | Springville | 1000 St. Clair Road Springville, AL 35146 | Alabama | Prison | 205-467-6111 | Click Here |
| Staton Correctional Facility | Elmore | 2690 Marion Spillway Road Elmore, AL 36025 | Alabama | Prison | 334-567-2221 | Click Here |
| Julia Tutwiler Prison for Women | Wetumpka | 8966 US Hwy 231 N Wetumpka, AL 36092 | Alabama | Prison | 334-567-4369 | Click Here |
| Kilby Correctional Facility | Mount Meigs | 12201 Wares Ferry Road Montgomery, AL 36117 | Alabama | Prison | 334-215-6600 | Click Here |
| Limestone Correctional Facility | Harvest | 28779 Nick Davis Rd Harvest, AL 35749 | Alabama | Prison | 256-233-4600 | Click Here |
| Ventress Correctional Facility | Clayton | 379 Alabama Hwy 239 North Clayton, AL 36016 | Alabama | Prison | 334-775-3331 | Click Here |
| Autauga County Metro Jail | Prattville | 136 N Court St, Prattville, AL 36067 | Alabama | Jail | 334-361-2600 | Click Here |
| Baldwin County Corrections | Bay Minette | 200 Hand Ave., Bay Minette, AL 36507 | Alabama | Jail | 251-580-2581 | Click Here |
| Barbour County Jail | Clayton | 24 Robertson Airport Dr, Clayton, AL 36016 | Alabama | Jail | 334-775-1128 | Click Here |
| Bibb County Jail | Centreville | 157 SW Davidson Drive, Suite 200, Centreville, AL 35042 | Alabama | Jail | 205-926.4683 | Click Here |
| Bullock County Jail | Union Springs | 217 North Prairie Street, Union Springs, AL 36089 | Alabama | Jail | 334-738-2670 | Click Here |
| Butler County | Greenville | 800 Walnut St, Greenville, AL 36037 | Alabama | Jail | 334-382-3321 | Click Here |
| Calhoun County Jail | Anniston | 400 W 8th St, Anniston, AL 36201 | Alabama | Jail | 256-237-4731 | Click Here |
| Chambers County Jail | La Fayette | 105 Alabama Ave W, La Fayette, AL 36862 | Alabama | Jail | 334-864-4336 | Click Here |
| Cherokee County | Centre | 110 Cedar Bluff Road, Centre, AL 35960 | Alabama | Jail | 256-927-3365 | Click Here |
| Chilton County Jail | Clanton | 500 2nd Ave N, Clanton, AL 35045 | Alabama | Jail | 205-755-4698 | Click Here |
| Choctaw County Jail | Butler | 217 South Hamburg Avenue Butler, AL 36904 | Alabama | Jail | 205-459-3937 | Click Here |
| Clay County Jail | Ashland | 41771 Hwy 77, Suite 2, Ashland, AL 36251 | Alabama | Jail | (256) 354-7713 | Click Here |
| Cleburne County Jail | Heflin | 140 Lambert Dr, Heflin, AL 36264 | Alabama | Jail | 256-463-7336 | Click Here |
| Coffee County Jail | New Brockton | 1133 E Mckinnon St, New Brockton, AL 36351 | Alabama | Jail | 334-894-5535 | Click Here |
| Colbert County Jail | Tuscumbia | 107 W 4th St, Tuscumbia, AL 35674 | Alabama | Jail | 256-386-8551 | Click Here |
| Conecuh County Jail | Evergreen | 104 Liberty St, Evergreen, AL 36401 | Alabama | Jail | 251-578-1260 | Click Here |
| Coosa County Jail | Rockford | 296 School Street, Rockford, AL 35136 | Alabama | Jail | 256-377-2211 | Click Here |
| Covington Jail | Andalusia | 290 Hillcrest Dr, Andalusia, AL 36420, USA | Alabama | Jail | 334-428-2641 | Click Here |
| Crenshaw County Jail | Luverne | 186 Justice Ave Luverne AL 36049-4529 | Alabama | Jail | 334-335-3860 | Click Here |
| Cullman County Detention Center | Cullman | 1900 Beech Ave SE, Cullman, AL 35055 | Alabama | Jail | 256-775-4713 | Click Here |
| Dale County Jail | Ozark | 124 Adams Street, Ozark, AL 36360 | Alabama | Jail | 334-774-5402 | Click Here |
| Dallas County Jail | Selma | 988 Selfield Road Selma, Al 36703 | Alabama | Jail | 334-874-2585 | Click Here |
| Dekalb County Jail | Fort Payne | 2801 Jordan Road SW Fort Payne, AL 35968 | Alabama | Jail | 256-845-3801 | Click Here |
| Elmore Jail | Wetumpka | 8955 US-231, Wetumpka, AL 36092 | Alabama | Jail | 334-567-5441 | Click Here |
| Escambia County Jail | Brewton | 316 Court St, Brewton, AL 36426 | Alabama | Jail | 251-809-0741 | Click Here |
| Etowah County Detention Center | Gadsden | 827 Forrest Ave, Gadsden, AL 35901 | Alabama | Jail | 256-546-2825 | Click Here |
| Fayette County Jail | Fayette | 113 1st Ave NW, Fayette, AL 35555 | Alabama | Jail | 205-932-3205 | Click Here |
| Franklin County Jail | Russellville | 748 Walnut Gate Rd, Russellville, AL 35654 | Alabama | Jail | 256-332-8811 | Click Here |
| Geneva County | Geneva | 200 N Commerce St, Geneva, AL 36340 | Alabama | Jail | 334-684-5670 | Click Here |
| Greene County Jail | Eutaw | 951 Finches Ferry Rd, Eutaw, AL 35462, USA | Alabama | Jail | 205-372-3152 | Click Here |
| Houston County Jail | Dothan | 144 North Oates, Dothan, AL,36303 | Alabama | Jail | 334-677-4882 | Click Here |
| Huntsville City Jail | Huntsville | 815 Wheeler Ave NW, Huntsville, AL 35801 | Alabama | Jail | 256-519-4800 | |
| Jackson County Jail | Scottsboro | 102 E Laurel St, Scottsboro, AL 35768 | Alabama | Jail | 256-574-2610 | |
| Jefferson County | Birmingham | 716 Richard Arrington Jr. Blvd. N Birmingham, AL 35203 | Alabama | Jail | 205-325-5670 | Click Here |
| Lamar County Jail | Vernon | 1118 Co Rd 9, Vernon, AL 35592, USA | Alabama | Jail | 205-695-7103 | Click Here |
| Lauderdale County Detention Center | Florence | 653 S Seminary St, Florence, AL 35630 | Alabama | Jail | 256-760-5773 | Click Here |
| Lawrence County Jail | Moulton | 242 Parker Rd, Moulton, AL 35650 | Alabama | Jail | 256-974-2418 | Click Here |
| Lee County Jail | Opelika | 2311 Gateway Dr, Opelika, AL 36801 | Alabama | Jail | 334-749-5651 | Click Here |
| Limestone County Jail | Athens | 101 W Elm St, Athens, AL 35611 | Alabama | Jail | 256-232-0111 | Click Here |
| Lowndes County Jail | Hayneville | 653 State Hwy 21 South, Hayneville, Alabama 36040 | Alabama | Jail | 334-548-2222 | Click Here |
| Madison County Jail | Huntsville | 815 Wheeler Ave NW, Huntsville, AL 35801 | Alabama | Jail | 256-519-4800 | Click Here |
| Marion County Jail | Hamilton | 132 Military St S, Hamilton, AL 35570 | Alabama | Jail | 205-921-2101 | Click Here |
| Marshall County Jail | Guntersville | 423 Blount Ave, Guntersville, AL 35976 | Alabama | Jail | 256-582-2034 | Click Here |
| Monroe County Jail | Monroeville | 65 N Alabama Ave Monroeville AL 36460 | Alabama | Jail | 251-575-2635 | Click Here |
| Morgan County Jail | Decatur | 119 Lee St. Decatur, AL, 35601 | Alabama | Jail | 256-351-4800 | Click Here |
| Perry County Jail | Marion | 202 Pickens St, Marion, AL 36756 | Alabama | Jail | 334-683-6636 | Click Here |
| Pickens County Jail | Carrollton | 188 Cemetery St, Carrollton, AL 35447 | Alabama | Jail | 205-367-2000 | Click Here |
| Pike County Jail | Troy | 120 W Church St, Troy, AL 36081 | Alabama | Jail | 334-566-4347 | Click Here |
| Randolph County Jail | Wedowee | 1 N Main St, Wedowee, AL 36278 | Alabama | Jail | 256-357-4545 | Click Here |
| Russell County Jail | Phenix City | 307 Prentiss Dr, Phenix City, AL 36869 | Alabama | Jail | 334-298-8621 | Click Here |
| Shelby County Jail | Columbiana | 380 McDow Rd, Columbiana, AL 35051 | Alabama | Jail | 205-669-3938 | Click Here |
| Talladega County Jail | Talladega | 150 E Renfroe Rd, Talladega, AL 35160 | Alabama | Jail | 256-761-2000 | Click Here |
| Tuscaloosa County Jail | Tuscaloosa | 1600 26th Ave, Tuscaloosa, AL 35401 | Alabama | Jail | 205-349-4511 | Click Here |
| Walker County Jail | Jasper | 2001 2nd Ave, Jasper, AL 35501 | Alabama | Jail | 205-384-4874 | Click Here |
| Washington County Jail | Chatom | 45 Court St, Chatom, AL 36518 | Alabama | Jail | 251-847-2202 | Click Here |
| Wilcox County Detention Center | Camden | 240 Highway 265 S Camden, AL 36726 | Alabama | Jail | 334-682-4715 | |
| Winston County Jail | Double Springs | 11 Blake Dr, Double Springs, AL 35553 | Alabama | Jail | 205-489-5205 | |
| Arab City Jail | Arab | 740 North Main Street, Arab, AL, 35976 | Alabama | Jail | 256-586-8124 | |
Unable to Locate an Inmate in Alabama
Having a friend of family member in jail can be overwhelming. The desire to write to or speak to this person can cause you to wonder where to even begin. This is where we can help. First, you need certain information to be able to get addresses and send appropriate items. This starts with the state and facility in which the inmate is housed.
This information can usually be found through a name search on a given facility site or this may be information you already know. The next step is knowing of finding the DOC INFORMATION that is pertinent to your family member or friend. DOC INFORMATION includes things like an inmate number, how to send items, and what items can be sent to a given facility. This information is important as some items are not allowed in some facilities, but are appropriate for others. If you know and follow the rules, your friend or loved one will receive their letters, money on the books, or special items much faster.
The most important thing to include, other than allowable items, is the DOC number for the inmate. When an inmate is booked into a facility, each is given specific DOC information that includes a mugshot, a list of charges, and a DOC number, which is often called an inmate number or ID number. This number is needed for all items sent to and from the jail. This serves as a type of tracking and identification system. This number is sometimes available when searching an inmate's name on a specific facility site.
VINELink, a third-party company, allows you to search for inmates 24 hours a day, every day of the year and learn further information about the case, charges, and what the person looks like in a mugshot. This information can be found using a full name or the inmate ID number. This will also help you to discover which facility the inmate is housed in if you are uncertain. So, if you are unable to locate an inmate in Alabama, this is a great resource to use that is easy and always available. This is available for inmates being held on all type of charges and requires a full, legal name or an inmate number.
It can be overwhelming when you have a loved one in jail, but you are unable to locate an inmate in a specific facility. VINELink can help. Once you know where your loved one or friend is located then you can get an address and list of approved ways to contact the person or what items can be sent directly to the inmate. Someone you know going to jail can be scary and overwhelming, but keeping contact is important. We can help you locate and potentially contact the person in the appropriate way.
The information you need is just a few short clicks away, so find a few minutes to let your fingers do all the work as you locate your loved one using the site. A jail term does not mean a person has disappeared, just that they are temporarily changing course. Help out by reaching out to your loved one and reminding them that people still care.