Search by Name
Minnesota Inmate Search
State Prison Search
MN DOC Information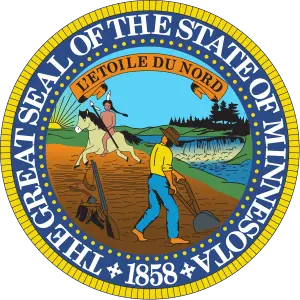 Authority: Minnesota Department of Corrections
Website: https://mn.gov/doc/
Address: 1450 Energy Park Drive, St. Paul, Minnesota 55108
Phone: (651) 361-7200
List of Jails and Prisons in Minnesota
| Name | City | Address | State | Type | Phone Number | Locator Link |
| --- | --- | --- | --- | --- | --- | --- |
| Federal Correctional Institution, Sandstone | Sandstone | 2300 Co Rd 29, Sandstone, MN 55072, USA | Minnesota | Federal | 320-245-2262 | Click Here |
| Federal Correctional Institution, Waseca | Waseca | 1000 University Dr SW, Waseca, MN 56093, USA | Minnesota | Federal | 507-835-8972 | Click Here |
| Federal Prison Camp, Duluth | Duluth | 4464 Ralston Dr, Duluth, MN 55811, USA | Minnesota | Federal | 218-722-8634 | Click Here |
| Federal Medical Center, Rochester | Rochester | 2110 E Center St, Rochester, MN 55904, USA | Minnesota | Federal | 507-287-0674 | Click Here |
| Fairbault Correctional Facility | Faribault | 1101 Linden Lane , Faribault, MN 55021 | Minnesota | Prison | 507-334-0700 | Click Here |
| Lino Lakes Correctional Facility | Lino Lakes | 7525 4th Ave, Lino Lakes, MN 55014 | Minnesota | Prison | 651-717-6100 | Click Here |
| Oak Park Heights Correctional Facility | Oak Park Heights | 5329 N Osgood Ave, Oak Park Heights, MN 55082 | Minnesota | Prison | 651-779-1400 | Click Here |
| Red Wing Correctional Facility | Red Wing | 1079 County 292 Blvd, Red Wing, MN 55066 | Minnesota | Prison | 651-267-3600 | Click Here |
| Rush City Correctional Facility | Rush City | 7600 525th St, Rush City, MN 55069 | Minnesota | Prison | 320-358-0400 | Click Here |
| Shakopee Correctional Facility | Shakopee | 1010 6th Ave W, Shakopee, MN 55379 | Minnesota | Prison | 952-496-4440 | Click Here |
| St. Cloud Correctional Facility | St Cloud | 2305 Minnesota Blvd, St Cloud, MN 56304 | Minnesota | Prison | 320-240-3000 | Click Here |
| Stillwater Correctional Facility | Bayport | 970 Pickett Ave N, Bayport, MN 55003 | Minnesota | Prison | 651-779-2700 | Click Here |
| Togo Correctional Facility | Cook | 2741 Co Rd 551, Cook, MN 55723 | Minnesota | Prison | 218-376-4411 | Click Here |
| Willow River/Moose Lake Correctional Facility | Moose Lake | 1000 Lakeshore Dr, Moose Lake, MN 55767 | Minnesota | Prison | 218-485-5000 | Click Here |
| Grant County Jail | Elbow Lake | 10 2nd St NE, Elbow Lake, MN 56531 | Minnesota | Jail | 218-685-8280 | Click Here |
| Pennington County Jail | Thief River Falls | 102 1st St W, Thief River Falls, MN 56701 | Minnesota | Jail | 218-681-6161 | Click Here |
| Kanabec County Jail | Mora | 18 N Vine St, Mora, MN 55051 | Minnesota | Jail | 320-679-8400 | Click Here |
| Becker County Jail | Detroit Lakes | 925 Lake Ave, Detroit Lakes, MN 56501 | Minnesota | Jail | 218-847-2939 | Click Here |
| Beltrami County Jail | Bemidji | 626 Minnesota Ave NW, Bemidji, MN 56601 | Minnesota | Jail | 218-333-4189 | Click Here |
| Meeker County Jail | Litchfield | 326 N Ramsey Ave, Litchfield, MN 55355 | Minnesota | Jail | 320-693-5415 | Click Here |
| Waseca County Jail | Waseca | 122 3rd Ave NW, Waseca, MN 56093 | Minnesota | Jail | 507-835-0510 | Click Here |
| Watonwan County Jail | St James | 715 3rd Ave S, St James, MN 56081 | Minnesota | Jail | 507-375-1206 | Click Here |
| Mahnomen County Jail | Mahnomen | 311 N Main St, Mahnomen, MN 56557 | Minnesota | Jail | 218-935-2255 | Click Here |
| Fillmore County Jail | Preston | 901 Houston St NW, Preston, MN 55965 | Minnesota | Jail | 507-765-3874 | Click Here |
| Brown County Jail | New Ulm | 15 S Washington St, New Ulm, MN 56073 | Minnesota | Jail | 507-233-6775 | Click Here |
| Saint Louis County Jail | Duluth | 4334 Haines Rd, Duluth, MN 55811 | Minnesota | Jail | 218-726-2345 | Click Here |
| Kittson County Jail | Hallock | 410 5th St SE # 102, Hallock, MN 56728 | Minnesota | Jail | 218-843-3535 | Click Here |
| Lac Qui Parle County Jail | Madison | 600 6th St, Madison, MN 56256 | Minnesota | Jail | 320-598-3720 | Click Here |
| Lake County Jail | Two Harbors | 613 3rd Ave, Two Harbors, MN 55616 | Minnesota | Jail | 218-834-8385 | Click Here |
| Stearns County Jail | St Cloud | 807 Courthouse Square, St Cloud, MN 56303 | Minnesota | Jail | 320-259-3750 | Click Here |
| Stevens County Jail | Morris | 400 Colorado Ave #401, Morris, MN 56267 | Minnesota | Jail | 320-208-6500 | Click Here |
| Morrison County Jail | Little Falls | 213 1st Ave SE, Little Falls, MN 56345 | Minnesota | Jail | 320-632-2673 | Click Here |
| Mower County Jail | Austin | 201 1st St NE, Austin, MN 55912 | Minnesota | Jail | 507-437-9400 | Click Here |
| Wabasha County Jail | Wabasha | 848 17th St E # 1, Wabasha, MN 55981 | Minnesota | Jail | 651-565-3361 | Click Here |
| Wadena County Jail | Wadena | 415 Jefferson St S, Wadena, MN 56482 | Minnesota | Jail | 218-631-7600 | Click Here |
| Crow Wing County Jail | Brainerd | 313 Laurel St, Brainerd, MN 56401 | Minnesota | Jail | 218-822-7050 | Click Here |
| Marshall County Jail | Warren | 208 E Colvin Ave #1, Warren, MN 56762 | Minnesota | Jail | 218-745-5411 | Click Here |
| Carlton County Jail | Carlton | 317 Walnut Ave, Carlton, MN 55718 | Minnesota | Jail | 218-384-4560 | Click Here |
| Carver County Jail | Chaska | 606 E 4th St, Chaska, MN 55318 | Minnesota | Jail | 952-361-1278 | Click Here |
| Hubbard County Jail | Park Rapids | 301 Court Ave, Park Rapids, MN 56470 | Minnesota | Jail | 218-732-3331 | Click Here |
| Isanti County Jail | Cambridge | 509 18th Ave SW, Cambridge, MN 55008 | Minnesota | Jail | 763-689-2397 | Click Here |
| Wilkin County Jail | Breckenridge | 515 Dacotah Ave, Breckenridge, MN 56520 | Minnesota | Jail | 218-643-1205 | Click Here |
| Aitkin County Jail | Aitkin | 217 2nd St NW, Aitkin, MN 56431 | Minnesota | Jail | 218-927-7456 | Click Here |
| Anoka County Jail | Anoka | 325 Jackson St, Anoka, MN 55303 | Minnesota | Jail | 763-324-5100 | Click Here |
| Red Lake County Jail | Red Lake Falls | 124 Main Ave N, Red Lake Falls, MN 56750 | Minnesota | Jail | 218-253-2996 | Click Here |
| Rice County Jail | Faribault | 118 3rd St NW, Faribault, MN 55021 | Minnesota | Jail | 507-332-6021 | Click Here |
| Rock County Jail | Luverne | 1000 N Blue Mound Ave, Luverne, MN 56156 | Minnesota | Jail | 507-283-5000 | Click Here |
| Scott County Jail | Shakopee | 301 Fuller St S, Shakopee, MN 55379 | Minnesota | Jail | 952-496-8314 | Click Here |
| Sibley County Jail | Gaylord | 419 Harrison St, Gaylord, MN 55334 | Minnesota | Jail | 507-237-4330 | Click Here |
| Nobles County Jail | Worthington | 1530 Airport Rd, Worthington, MN 56187 | Minnesota | Jail | 507-295-5378 | Click Here |
| Norman County Jail | Ada | 15 2nd Ave E #109, Ada, MN 56510 | Minnesota | Jail | 218-784-7114 | Click Here |
Unable to Locate an Inmate in Minnesota
Knowing someone who has been arrested can be scary and you may want more information, but finding this information can be tricky at times. InmatesPlus can help if you are unable to locate an inmate in Minnesota. InmatesPlus lists links to every facility, jails and prisons, that are available in Minnesota. If this is still too difficult or confusing then there is still another option. If you are unable to locate an inmate in Minnesota then consider VINELink. VINELink is a third-party site that is free to use after confidential registration of your information.
Standing for Victim Identification and Notification Everyday, VINELink was started to help victims monitor those who committed crimes against them. However, VINELink is also useful when you are unable to locate an inmate in Minnesota that you know. All it takes is a simple registration and the site is free to use as often as needed. With daily updates, the site always provides the best information available to the public which includes mugshots, charges, and sentence if one has been handed down. This can offer peace of mind for victims and hope for friends and family members that want to keep track of those who are incarcerated. Being unable to locate an inmate in Minnesota can be frustrating and disheartening, but InmatesPlus and VINELink can help. Put your mind at ease and save some time by using the sites that gathers all the information for you and places it at your fingertips. Try a search today to find the information you need.
If you have been on the receiving end of a phone in which a loved one or friend has been arrested, it can be scary. This may be second hand information that provides little else than the knowledge that someone you know and love is behind bars in the state in which they live. Immediately, your mind is flooded with questions that may not be answerable with a single search. This is where InmatesPlus can be extremely helpful. Start by searching for the facility in Minnesota that the person has been incarcerated in and then read up on ways to help. Prison or jail, whether given a lengthy sentence or awaiting trial can quickly steal hope from a person, but having contact with the outside world is beneficial. In order to stay in contact, you will need some basic DOC information that makes is easier.
This DOC information can be found on InmatesPlus by searching a specific facility. Even if you have the DOC information you need, InmatesPlus can provide you with ideas and legal ways to stay in contact or help out an inmate over time. Even when incarcerated, people need to hear from family and friends through letters and may even need to know phone numbers to be able to contact other loved ones. Additionally, inmate will need funds added to their accounts while serving a sentence and DOC information helps you to be able to do this if you are able. Utilize InmatesPlus to gain the information you need to make a bad situation a bit better.