Search by Name
Virginia Inmate Search
State Prison Search
VA DOC Information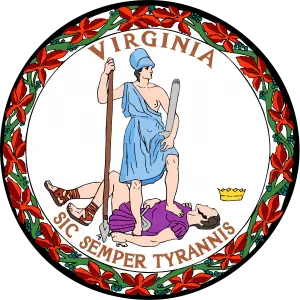 Authority: Virginia Department of Corrections
Website: https://vadoc.virginia.gov
Address: 6900 Atmore Dr, Richmond, VA 23225
Phone: (674) 674-3000
List of Jails and Prisons in Virginia
| Name | City | Address | State | Type | Phone Number | Locator Link |
| --- | --- | --- | --- | --- | --- | --- |
| United States Penitentiary, Lee | Pennington Gap | Hickory Flats Road, Pennington Gap, VA 24277, USA | Virginia | USP | 276-546-0150 | Click Here |
| Federal Correctional Institution, Petersburg | Hopewell | 1100 River Rd, Hopewell, VA 23860, | Virginia | Federal | 804-733-7881 | Click Here |
| Augusta Correctional Center | Craigsville | 1821 Estaline Valley Road, Craigsville, VA 24430 | Virginia | Prison | 540-997-7000 | Click Here |
| Baskerville Correctional Center | Baskerville | 4150 Hayes Mill Rd, Baskerville, VA 23915 | Virginia | Prison | 434-447-3857 | Click Here |
| Bland Correctional Center | Bland | 256 Bland Farm Road, Bland, VA 24315 | Virginia | Prison | 276-688-3341 | Click Here |
| Brunswick Work Center | Lawrenceville | 1147 Planters Rd, Lawrenceville, VA 23868 | Virginia | Prison | 434-848-4131 | Click Here |
| Buckingham Correctional Center | Dillwyn | 1349 Correctional Center Roa, Dillwyn, VA 23936 | Virginia | Prison | 434-983-4400 | Click Here |
| Caroline Correctional Unit | Hanover | 31285 Camp Rd, Hanover, VA 23069 | Virginia | Prison | 804-994-2161 | Click Here |
| Central Virginia Correctional Unit | Chesterfield | 6900 Courthouse Rd, Chesterfield, VA 23832 | Virginia | Prison | 804-796-4277 | Click Here |
| Coffeewood Correctional Center | Mitchells | 12352 Coffeewood Dr, Mitchells, VA 22729 | Virginia | Prison | 540-829-6483 | Click Here |
| Cold Springs Correctional Unit | Greenville | 221 Spitler Cir, Greenville, VA 24440 | Virginia | Prison | 540-337-1818 | Click Here |
| Deep Meadow Correctional Center | State Farm | 3500 Woods Way, State Farm, VA 23160 | Virginia | Prison | 804-598-5503 | Click Here |
| Deerfield Correctional Center | Capron | 21360 Deerfield Dr, Capron, VA 23829 | Virginia | Prison | 434-658-4368 | Click Here |
| Dillwyn Correctional Center | Dillwyn | 1522 Prison Rd, Dillwyn, VA 23936 | Virginia | Prison | 434-983-4200 | Click Here |
| Fluvanna Correctional Center for Women | Troy | 144 Prison Lane, Troy, VA 22974 | Virginia | Prison | 434-984-3700 | Click Here |
| Green Rock Correctional Center | Chatham | 1704 Beverly Heights Rd, Chatham, VA 24531 | Virginia | Prison | 434-797-2000 | Click Here |
| Greensville Work Center | Jarratt | 901 Corrections Way, Jarratt, VA 23867 | Virginia | Prison | 434-535-7000 | Click Here |
| Halifax Correctional Unit | South Boston | 1200 Farm Rd, South Boston, VA 24592 | Virginia | Prison | 434-572-2683 | Click Here |
| Haynesville Correctional Center | Haynesville | 421 Barnfield Rd, Haynesville, VA 22472 | Virginia | Prison | 804-333-3577 | Click Here |
| Haynesville Correctional Unit | Haynesville | 363 Camp Seventeen Road, Haynesville, VA 22472 | Virginia | Prison | 804-333-3577 | Click Here |
| Indian Creek Correctional Center | Chesapeake | 801 Sanderson Rd, Chesapeake, VA 23322 | Virginia | Prison | 757-421-0095 | Click Here |
| Keen Mountain Correctional Center | Oakwood | 3402 Kennel Gap Rd, Oakwood, VA 24631 | Virginia | Prison | 276-498-7411 | Click Here |
| Lawrenceville Correctional Center | Lawrenceville | 1607 Planters Rd, Lawrenceville, VA 23868 | Virginia | Prison | 434-848-9349 | Click Here |
| Lunenburg Correctional Center | Victoria | 690 Falls Rd, Victoria, VA 23974 | Virginia | Prison | 434-696-2045 | Click Here |
| Marion Correctional Treatment Center | Marion | 110 Wright Street, Marion, VA 24354 | Virginia | Prison | 276-783-7154 | Click Here |
| Medical College of Virginia | Richmond | 401 North 12th Street, Richmond, VA 23298 | Virginia | Prison | 804-828-0804 | Click Here |
| Nottoway Correctional Center | Burkeville | 2892 Schutt Rd, Burkeville, VA 23922 | Virginia | Prison | 434-767-5543 | Click Here |
| Patrick Henry Correctional Unit | Ridgeway | 18155 A L Philpott Hwy, Ridgeway, VA 24148 | Virginia | Prison | 276-957-2234 | Click Here |
| Pocahontas State Correctional Center | Pocahontas | 317 Old Mountain Road, Pocahontas, VA 24635 | Virginia | Prison | 276-945-9173 | Click Here |
| Red Onion State Prison | Pound | 10800 H. Jack Rose Highway, Pound, VA 24279 | Virginia | Prison | 276-796-7510 | Click Here |
| River North Correctional Center | Independence | 329 Dellbrook Ln, Independence, VA 24348 | Virginia | Prison | 276-773-2518 | Click Here |
| Rustburg Correctional Unit | Rustburg | 479 Camp 9 Rd # 9, Rustburg, VA 24588 | Virginia | Prison | 434-332-7354 | Click Here |
| St. Brides Correctional Center | Chesapeake | 701 Sanderson Rd, Chesapeake, VA 23322 | Virginia | Prison | 757-421-6600 | Click Here |
| Sussex I State Prison | Waverly | 24414 Musselwhite Dr, Waverly, VA 23891 | Virginia | Prison | 804-834-9967 | Click Here |
| Sussex II State Prison | Waverly | 24427 Mussellwhite Dr, Waverly, VA 23891 | Virginia | Prison | 804-834-2678 | Click Here |
| Virginia Correctional Center for Women | Goochland | 2841 River Rd W, Goochland, VA 23063 | Virginia | Prison | 804-556-7500 | Click Here |
| Wallens Ridge State Prison | Big Stone Gap | 272 Dogwood Drive, Big Stone Gap, VA 24219 | Virginia | Prison | 276-523-3310 | Click Here |
| Wise Correctional Unit | Coeburn | 3602 Bear Lane, Coeburn, VA 24230 | Virginia | Prison | 276-679-9204 | Click Here |
| Charlotte County Jail | Charlotte Court House | 222 Law Lane Charlotte Court House, VA 23923 | Virginia | Jail | 434-542-5141 | Click Here |
| Chesterfield County Jail | Chesterfield | 9500 Courthouse Road, Chesterfield, VA 23832 | Virginia | Jail | 804-748-1261 | Click Here |
| Patrick County Jail | Stuart | 742 Commerce St, Stuart, VA 24171 | Virginia | Jail | 276-694-3714 | Click Here |
| Sussex County Jail | Sussex | 20212 Thornton Sq, Sussex, VA 23884 | Virginia | Jail | 434-246-5361 | Click Here |
| Waynesboro County Jail | Waynesboro | 250 S. Wayne Ave., Waynesboro, VA 22980 | Virginia | Jail | 540-942-6639 | Click Here |
| Essex County Jail | Tappahannock | 304 Prince St, Tappahannock, VA 22560 | Virginia | Jail | 804-443-3346 | Click Here |
| Floyd County Jail | Floyd | 100 E Main St # 206, Floyd, VA 24091 | Virginia | Jail | 540-745-9334 | Click Here |
| Henrico County Jail | Henrico | 4301 E Parham Rd, Henrico, VA 23228 | Virginia | Jail | 804-501-4581 | Click Here |
| Henry County Jail | Martinsville | 3250 Kings Mountain Rd, Martinsville, VA 24112 | Virginia | Jail | 276-656-4200 | Click Here |
| Botetourt County Jail | Fincastle | 205 N Roanoke St, Fincastle, VA 24090 | Virginia | Jail | 540-473-8230 | Click Here |
| Brunswick County Jail | Lawrenceville | 120 E Hicks St, Lawrenceville, VA 23868 | Virginia | Jail | 434-848-6012 | Click Here |
| Pittsylvania County Jail | Chatham | 21 N Main Street, Chatham, VA 24531 | Virginia | Jail | 800-791-0044 | Click Here |
| King William County Jail | King William | 351 Courthouse Rd, King William, VA 23086 | Virginia | Jail | 804-769-0999 | Click Here |
| Accomack County Jail | Accomac | 23323 Wise Ct, Accomac, VA 23301 | Virginia | Jail | 757-787-1131 | Click Here |
| Nelson County Jail | Lovingston | 94 Courthouse Square, Lovingston, VA 22949 | Virginia | Jail | 434-263-7050 | Click Here |
| Franklin County Jail | Rocky Mount | 70 E Court St #101, Rocky Mount, VA 24151 | Virginia | Jail | 540-483-3000 | Click Here |
| Craig County Jail | New Castle | 182 Main Street Suite 1, New Castle, VA 24127 | Virginia | Jail | 540-864-5127 | Click Here |
| Culpeper County Jail | Culpeper | 131 W Cameron St, Culpeper, VA 22701 | Virginia | Jail | 540-727-3434 | Click Here |
| Mathews County Jail | Mathews | 10622 Buckley Hall Rd, Mathews, VA 23109 | Virginia | Jail | 804-725-7177 | Click Here |
| Appomattox County Jail | Appomattox | 179 Morton Ln, Appomattox, VA 24522 | Virginia | Jail | 434-352-2666 | Click Here |
| Lancaster County Jail | Lancaster | 8293 Mary Ball Rd, Lancaster, VA 22503 | Virginia | Jail | 804-462-5111 | Click Here |
| Lee County Jail | Jonesville | 33640 Main St U101, Jonesville, VA 24263 | Virginia | Jail | 276-346-7753 | Click Here |
| Roanoke County Jail | Salem | 401 E Main St, Salem, VA 24153 | Virginia | Jail | 540-283-3145 | Click Here |
Unable to Locate an Inmate in Virginia
InmatesPlus offers a link to VINELink, a third-party company, allows you to search for inmates 24 hours a day, every day of the year and learn further information about the case, charges, and what the person looks like in a mugshot. This information can be found using a full name or the inmate ID number. This will also help you to discover which facility the inmate is housed in if you are uncertain. So, if you are unable to locate an inmate in Virginia, this is a great resource to use that is easy and always available. This is available for inmates being held on all types of charges and requires a full, legal name or an inmate number. It can be overwhelming when you have a loved one in jail, but you are unable to locate an inmate located in Virginia. VINELink can help.
Once you know where your loved one or friend is located then you can get an address and list of approved ways to contact the person or what items can be sent directly to the inmate. Someone you know going to jail can be scary and overwhelming, but keeping contact is important. We can help you locate and potentially contact the person in the appropriate way. The information you need is just a few short clicks away, so find a few minutes to let your fingers do all the work as you locate your loved one using the site. A jail term does not mean a person has disappeared, just that they are temporarily changing course. Help out by reaching out to your loved one and reminding them that people still care.
When you do locate an inmate or have the basic information to do so, you can gain the DOC information needed to contact that person. DOC information can take on many meanings. For most, DOC information is basically an inmate ID number that will have to be put on all correspondence to the inmate and used when adding money to an inmate account. While this is true, further DOC information about a specific facility can also be helpful. InmatesPlus can offer all the information needed to write letters, put money on the books, schedule visits, and provide links to lists of items that are allowed to be sent to your loved one who is incarcerated. While this may not seem like something important, staying in contact with a loved one whether they are serving months, years, or awaiting trial, is important.
Being in contact with someone outside the jail can boost spirits and help with rehabilitation. DOC information can also change from facility to facility. This may include allowable items and how to transfer money into accounts. Other important information such as a mailing address, visiting hours, and how an inmate can contact others can also be found. DOC information serves a great deal of purpose when needing information for and from those who are incarcerated. Furthermore, if you are unsure of a person's charges or sentence length, having specific DOC information can help you to find out more. InmatesPlus can help with all of this information with just a few clicks.