Search by Name
Arizona Inmate Search
AZ DOC Information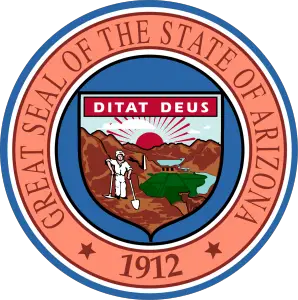 Authority: Arizona Department of Corrections
Website: https://corrections.az.gov/
Address: 1601 W. Jefferson, Phoenix, AZ 85007
Phone: (602) 542-5497
List of Jails and Prisons in Arizona
| Name | City | Address | State | Type | Phone Number | Locator Link |
| --- | --- | --- | --- | --- | --- | --- |
| Douglas Arizona State Prison Complex | Douglas | 6911 N Bdi Blvd, Douglas, AZ 85607 | Arizona | Prison | 520-364-7521 | Click Here |
| Eyman Arizona Prison Complex | Florence | 4374 East Butte Avenue, Florence, AZ 85132 | Arizona | Prison | 520-868-0201 | Click Here |
| Arizona Prison Complex Florence | Florence | 1305 E Butte Ave, Florence, AZ 85132 | Arizona | Prison | 520-868-4011 | Click Here |
| Arizona State Prison Kingman | Golden Valley | 4626 W English Dr, Golden Valley, AZ 86413 | Arizona | Prison | 928-565-2460 | Click Here |
| Lewis Arizona State Prison Complex | Buckeye | 26700 AZ-85, Buckeye, AZ 85326 | Arizona | Prison | 623-386-6160 | Click Here |
| Perryville | Goodyear | 2105 North Citrus Road Goodyear, AZ 85395 | Arizona | Prison | 623-853-0304 | Click Here |
| ASPC - Phoenix | Phoenix | 2500 E Van Buren St, Phoenix, AZ 85008 | Arizona | Prison | 602-685-3100 | Click Here |
| ASPC - Safford | Safford | 896 S Cook Rd, Safford, AZ 85546 | Arizona | Prison | 928-428-4698 | Click Here |
| Tucson Arizona State Prison Complex | Tucson | 10000 S Wilmot Rd, Tucson, AZ 85734 | Arizona | Prison | 520-574-0024 | Click Here |
| ASPC - Winslow | Winslow | 2100 AZ-87, Winslow, AZ 86047 | Arizona | Prison | 928-289-9551 | Click Here |
| Arizona State Prison Complex Yuma | Yuma | 7125 Juan Sanchez Blvd, Yuma, AZ 85365 | Arizona | Prison | 928-627-8871 | Click Here |
| Arizona State Prison Florence West | Florence | 915 E Diversion Dam Rd, Florence, AZ 85132 | Arizona | Prison | 520-868-4251 | Click Here |
| ASP - Phoenix West | Phoenix | 3402 W Cocopah St, Phoenix, AZ 85009 | Arizona | Prison | 602-352-0350 | Click Here |
| Red Rock Correctional Facility | Eloy | 1750 E Arica Rd, Eloy, AZ 85131 | Arizona | Prison | 520-464-3800 | Click Here |
| Apache County Jail | St Johns | 370 S Washington St, St Johns, AZ 85936 | Arizona | Jail | 928-337-4321 | Click Here |
| Cochise County Jail | Bisbee | 203 N Judd Dr, Bisbee, AZ 85603 | Arizona | Jail | 520-432-7540 | Click Here |
| Gila County Jail | Globe | 1100 E South St, Globe, AZ 85501 | Arizona | Jail | 928-425-7853 | Click Here |
| Glendale City Jail | Glendale | 6835 N 57th Dr, Glendale, AZ 85301 | Arizona | Jail | 623-930-3020 | Click Here |
| Graham County Detention Center | Safford | 600 W Graham Canal Rd, Safford, AZ 85546 | Arizona | Jail | 928-792-5214 | Click Here |
| Greenlee County Jail | Clifton | 824 S Coronado Blvd, Clifton, AZ 85533 | Arizona | Jail | 928-865-4149 | Click Here |
| La Paz County Jail | Parker | 1109 W Arizona Ave, Parker, AZ 85344 | Arizona | Jail | 928-669-6141 | Click Here |
| Maricopa County Jail | Phoenix | 550 West Jackson, Phoenix, Arizona 85003 | Arizona | Jail | 602-876-1000 | Click Here |
| Mohave County Jail | Kingman | 501 W Hwy 66, Kingman, AZ 86401 | Arizona | Jail | 928-753-0759 | Click Here |
| Navajo County Jail | Holbrook | P.O. Box 668, Holbrook, AZ 86025 | Arizona | Jail | 928-524-4372 | Click Here |
| Pima County Jail | Tucson | 1270 W. Silverlake Road Tucson, AZ 85713 | Arizona | Jail | 520-351-8111 | Click Here |
| Pinal County Jail | Florence | 971 Jason Lopez Cir, Florence, AZ 85132 | Arizona | Jail | 855-355-0358 | Click Here |
| Santa Cruz County Jail | Santa Cruz | 259 Water Street, Santa Cruz, CA. 95060 | Arizona | Jail | 831-454-7800 | Click Here |
| Yavapai County Jail | Camp Verde | 2830 North Commonwealth Drive, Camp Verde, AZ 86322 | Arizona | Jail | 928-567-7734 | Click Here |
| Yuma County Detention Center | Yuma | 200 W. Court Street, Yuma, AZ 85364 | Arizona | Jail | 928-539-7841 | Click Here |
| Florence Correctional Center – ICE | Florence | 1100 North Bowling Road, Florence, AZ, 85132 | Arizona | Immigration Detention Facility | 520-868-9095 | Click Here |
| Eloy Detention Center – ICE | Eloy | 1705 East Hanna Road, Eloy, AZ, 85131 | Arizona | Immigration Detention Facility | 520-466-4141 | Click Here |
| La Palma Correctional Center | Eloy | 5501 North La Palma Road, Eloy, AZ, 85131 | Arizona | Immigration Detention Facility | 520-464-3200 | Click Here |
| Arizona State Prison Kingman – Complex Administration | Golden Valley | 4626 West English Drive, Golden Valley, AZ, 86414 | Arizona | Private | 928-565-2460 | Click Here |
| Arizona State Prison Kingman – Cerbat Unit | Golden Valley | 4627 West English Drive, Golden Valley, AZ, 86414 | Arizona | Private | 928-565-2460 | Click Here |
| Arizona State Prison Kingman – Hualapai Unit | Golden Valley | 4628 West English Drive, Golden Valley, AZ, 86414 | Arizona | Private | 928-565-2460 | Click Here |
| ASP – Central Arizona Correctional Facility – GEO | Florence | 1401 East Diversion Dam Road PO Box 9600, Florence, AZ, 85132 | Arizona | Private | 520-868-4809 | Click Here |
| Central Arizona Detention Center – CCA | Florence | 1155 North Pinal Parkway, Florence, AZ, 85132 | Arizona | Private | 520-868-3668 | Click Here |
| Red Rock Correctional Center – CCA | Eloy | 1750 East Arica Road, Eloy, AZ, 85131 | Arizona | Private | 520-464-3800 | Click Here |
| Arizona State Prison – Phoenix West | Phoenix | 3402 West Cocopah, Phoenix, AZ, 85009 | Arizona | Private | 602-352-0350 | Click Here |
| Saguaro Correctional Center – CCA | Eloy | 1250 East Arica Road, Eloy, AZ, 85131 | Arizona | Private | 520-464-0500 | Click Here |
| San Luis Regional Detention Center (SLRDC) – Emerald | San Luis | 406 North Avenue D, San Luis, AZ, 85349 | Arizona | Private | 520-682-2077 | Click Here |
| Arizona State Prison Marana | Marana | 12610 West Silverbell Road, Marana, AZ, 85653 | Arizona | Private | 928-627-2101 | Click Here |
| United States Penitentiary, Tucson | Tucson | 9300 S Wilmot Rd, Tucson, AZ 85756 | Arizona | Federal | 520-663-5000 | Click Here |
| Federal Correctional Institution, Phoenix | Phoenix | 37900 N 45th Ave, Phoenix, AZ 85086 | Arizona | Federal | 623-465-9757 | Click Here |
| Federal Correctional Institution, Safford | Safford | 1529 W State Highway 366, Safford, AZ 85546 | Arizona | Federal | 928-428-6600 | Click Here |
| Federal Correctional Institution, Tucson | Tucson | 8901 S Wilmot Rd, Tucson, AZ 85756 | Arizona | Federal | 520-574-7100 | Click Here |
Unable to Locate an Inmate in Arizona
The Arizona Department of Corrections operates and manages the prisons in Arizona. If you have a loved one in the Arizona corrections department as an inmate or suspect that someone you love has been arrested, then it is important to know some basic DOC information for the area. This not only makes finding someone much easier, but allows you to know the important rules and regulations that apply to a specific facility.
DOC information not only includes an inmate number, which will be necessary for visitation and correspondence, but for basic information about the actual facility. Each facility in Arizona will have a different process for the various needs of each inmate. If you wish to write a letter, send cards, or books, some facilities will only allow certain ones and all will be searched.
While some facilities allow you to add money to the books during a visit, others will require a money order to be mailed in with the inmate ID number. Visiting hours and how to schedule a visit can also vary greatly between facilities. Having the DOC information, you need will make the situation easier to handle from the start. DOC information can also provide you with the correct address and department when different types of correspondence is necessary. This can include finding out about transfers, setting up things when an inmate is released, and even finding out what charges may be pending or even the length of a sentence. Much of this can be found on the links provided on the site.
Knowing that a loved one is in jail or suspecting that someone you know has landed in jail can be scary, worrisome, and traumatic. This becomes even more of an issue if you are unable to locate an inmate in Arizona. There are a number of jails and prisons, so calling each one can be time consuming. You may also come back without the information that is needed because personnel are not always able to be helpful and often, calls go unreturned.
InmatesPlus has made it easier to locate an inmate in Arizona if you have been unable to do so on your own. The best place to start is with a jail that the person is most likely to be located in by clicking on the link to the specific facility. All you will need is the person's full legal name. If you are unable to locate in Arizona in this way, then try VINELink. This stands for Victim Information and Notification Everyday link. While this is a contracted third-party service it offers information that is up to date for jails and prisons in the area with little more than a person's legal name. This can be helpful when you are unable to locate an inmate in Arizona. This works to locate friends and family members, but it is also helpful in keeping track of a person's status when you have been a victim of that person. While a registration is required for VINELink, it is a free service that is confidential.