Search by Name
Indiana Inmate Search
State Prison Search
IN DOC Information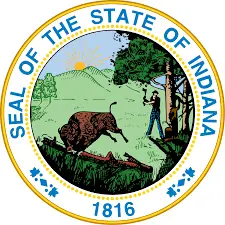 Authority: Indiana Department of Correction
Website: https://www.in.gov/idoc/
Address: 302 W Washington St E334, Indianapolis, IN 46204
Phone: (317) 233-6984
List of Jails and Prisons in Indiana
| Name | City | Address | State | Type | Phone Number | Locator Link |
| --- | --- | --- | --- | --- | --- | --- |
| United States Penitentiary, Terre Haute | Terre Haute | 4700 Bureau Rd South, Terre Haute, IN 47802, USA | Indiana | Federal | 812-244-4400 | Click Here |
| Federal Correctional Institution, Terre Haute | Terre Haute | 4200 Bureau Rd N, Terre Haute, IN 47802, USA | Indiana | Federal | 812-238-1531 | Click Here |
| Branchville Correctional Facility | Branchville | 21390 Old State Rd 37, Branchville, IN 47514 | Indiana | Prison | 812-843-5921 | Click Here |
| Chain O' Lakes Correctional Facility | Albion | 3516 E 75 S, Albion, IN 46701 | Indiana | Prison | 260-636-3114 | Click Here |
| Correctional Industrial Facility | Pendleton | 5124 W Reformatory Rd, Pendleton, IN 46064 | Indiana | Prison | 765-778-8011 | Click Here |
| Edinburgh Correctional Facility | Edinburgh | 703 23rd St, Edinburgh, IN 46124 | Indiana | Prison | 812-526-8434 | Click Here |
| Henryville Correctional Facility | Underwood | 1504 Schlamm Lake Rd, Underwood, IN 47177 | Indiana | Prison | 812-294-1707 | Click Here |
| Heritage Trail Correctional Facility | Plainfield | 501 W Main St, Plainfield, IN 46168 | Indiana | Prison | 317-839-7751 | Click Here |
| Indiana State Prison | Michigan City | 1 Park Row St, Michigan City, IN 46360 | Indiana | Prison | 219-874-7256 | Click Here |
| Indiana Women's Prison | Indianapolis | 2596 N Girls School Rd, Indianapolis, IN 46214 | Indiana | Prison | 317-244-3387 | Click Here |
| Indianapolis Re-Entry Educational Facility | Indianapolis | 401 N Randolph St, Indianapolis, IN 46201 | Indiana | Prison | 317-639-2671 | Click Here |
| Madison Correctional Facility (Women) | Madison | 800 Bus Stop Dr, Madison, IN 47250 | Indiana | Prison | 812-265-6154 | Click Here |
| Miami Correctional Facility | Bunker Hill | 3038 W 850 S, Bunker Hill, IN 46914 | Indiana | Prison | 765-689-8920 | Click Here |
| New Castle Correctional Facility | New Castle | 1000 Van Nuys Rd, New Castle, IN 47362 | Indiana | Prison | 765-593-0111 | Click Here |
| Pendleton Correctional Facility | Pendleton | 4490 W Reformatory Rd, Pendleton, IN 46064 | Indiana | Prison | 765-778-2107 | Click Here |
| Plainfield Correctional Facility | Plainfield | 727 Moon Rd, Plainfield, IN 46168 | Indiana | Prison | 317-839-2513 | Click Here |
| Putnamville Correctional Facility | Greencastle | 1946 US-40, Greencastle, IN 46135 | Indiana | Prison | 765-653-8441 | Click Here |
| Reception Diagnostic Center | Plainfield | 737 Moon Rd, Plainfield, IN 46168 | Indiana | Prison | 317-839-7727 | Click Here |
| Rockville Correctional Facility (Women) | Rockville | 811 50 N, Rockville, IN 47872 | Indiana | Prison | 765-569-3178 | Click Here |
| South Bend Community Re-Entry Center | South Bend | 4650 Old Cleveland Rd, South Bend, IN 46628 | Indiana | Prison | 574-234-4094 | Click Here |
| Wabash Valley Correctional Facility | Carlisle | 6908 S Old US Highway 41, Carlisle, IN 47838 | Indiana | Prison | 812-398-5050 | Click Here |
| Westville Correctional Facility | Westville | 5501 S 1100 W, Westville, IN 46391 | Indiana | Prison | 219-785-2511 | Click Here |
| Ohio County Jail | Hartford | 301 South Main Street, Hartford, KY 42347 | Indiana | Jail | 270-298-4444 | Click Here |
| Greene County Jail | Xenia | 120 E. Main St., Xenia, OH 45385 | Indiana | Jail | 937-562-4800 | Click Here |
| Hamilton County Jail | Noblesville | 18100 Cumberland Road, Noblesville, IN 46060 | Indiana | Jail | 317-773-1872 | Click Here |
| Parke County Jail | Rockville | 458 Strawberry Rd, Rockville, IN 47872 | Indiana | Jail | 765-569-5413 | Click Here |
| Switzerland County Jail | Vevay | 405 Liberty St, Vevay, IN 47043 | Indiana | Jail | 812-427-3636 | Click Here |
| Tippecanoe County Jail | Lafayette | 2640 Duncan Rd, Lafayette, IN 47904 | Indiana | Jail | 765-423-1655 | Click Here |
| Tipton County Jail | Tipton | 121 W Madison St, Tipton, IN 46072 | Indiana | Jail | 765-675-7004 | Click Here |
| Jennings County Jail | North Vernon | 925 S State St, North Vernon, IN 47265 | Indiana | Jail | 812-346-5111 | Click Here |
| Johnson County Jail | Franklin | 1091 Hospital Road, Franklin IN 46131 | Indiana | Jail | 317-346-4716 | Click Here |
| Bartholomew County Jail | Columbus | 543 2nd St, Columbus, IN 47201 | Indiana | Jail | 812-379-1650 | Click Here |
| Benton County Jail | Fowler | 105 S Lincoln Ave, Fowler, IN 47944 | Indiana | Jail | 765-884-0080 | Click Here |
| Wells County Jail | Bluffton | 1615 Western Ave, Bluffton, IN 46714 | Indiana | Jail | 260-824-3426 | Click Here |
| Madison County Jail | Anderson | 720 Central Ave, Anderson, IN 46016 | Indiana | Jail | 765-646-9285 | Click Here |
| Floyd County Jail | New Albany | 311 Hauss Square, New Albany, IN 47150 | Indiana | Jail | 812-948-5411 | Click Here |
| Hendricks County Jail | Danville | 925 E Main St, Danville, IN 46122 | Indiana | Jail | 317-745-9332 | Click Here |
| Rush County Jail | Rushville | 131 E 1st St, Rushville, IN 46173 | Indiana | Jail | 765-932-2931 | Click Here |
| Porter County Jail | Valparaiso | 2755 IN-49, Valparaiso, IN 46383 | Indiana | Jail | 219-477-3000 | Click Here |
| Kosciusko County Jail | Warsaw | 221 W Main St, Warsaw, IN 46580 | Indiana | Jail | 866-322-5857 | Click Here |
| LaGrange County Jail | LaGrange | 875 IN-9, LaGrange, IN 46761 | Indiana | Jail | 260-463-7491 | Click Here |
| Lake County Jail | Crown Point | 2293 N. Main Street, Crown Point, IN 46307-1854 | Indiana | Jail | 219-755-3421 | Click Here |
| Spencer County Jail | Rockport | 120 N 2nd St, Rockport, IN 47635 | Indiana | Jail | 812-649-2286 | Click Here |
| St. Joseph County Jail | South Bend | 401 W Sample St, South Bend, IN 46601 | Indiana | Jail | 574-245-6500 | Click Here |
| Starke County Jail | Knox | 5435 E State Road 8, Knox, IN 46534 | Indiana | Jail | 574-772-3771 | Click Here |
| Morgan County Jail | Martinsville | 160 N. Park Avenue, Martinsville, IN 46151 | Indiana | Jail | 765-342-4303 | Click Here |
| Vigo County Jail | Terre Haute | 201 Cherry St, Terre Haute, IN 47807 | Indiana | Jail | 812-462-3224 | Click Here |
| Fountain County Jail | Covington | 216 Union St, Covington, IN 47932 | Indiana | Jail | 765-294-4075 | Click Here |
| Decatur County Jail | Greensburg | 119 E Railroad St, Greensburg, IN 47240 | Indiana | Jail | 812-222-5246 | Click Here |
| Marion County Jail | Indianapolis | 40 S. Alabama Street, Indianapolis, IN 46204 | Indiana | Jail | 317-327-1700 | Click Here |
| Howard County Jail | Kokomo | 1800 W Markland Ave, Kokomo, IN 46901 | Indiana | Jail | 765-456-2026 | Click Here |
| Huntington County Jail | Huntington | 332 E State St, Huntington, IN 46750 | Indiana | Jail | 260-356-3110 | Click Here |
| Jackson County Jail | Brownstown | 150 East SR 250, Brownstown, Indiana 47220 | Indiana | Jail | 812-358-1982 | Click Here |
| Jay County Jail | Portland | 224 W Water St, Portland, IN 47371 | Indiana | Jail | 260-726-7541 | Click Here |
| Whitley County Jail | Columbia | 101 W Market St, Columbia City, IN 46275 | Indiana | Jail | 260-244-7119 | Click Here |
| Ripley County Jail | Versailles | 210 N Monroe St, Versailles, IN 47042 | Indiana | Jail | 812-689-3437 | Click Here |
| Noble County Jail | Albion | 210 7th Street, Albion, IN 46701 | Indiana | Jail | 260-636-2182 | Click Here |
| Delaware County Jail | Muncie | 100 W. Washington St., Muncie, Indiana 47305 | Indiana | Jail | 765-747-7885 | Click Here |
Unable to Locate an Inmate in Indiana
DOC information is a general term that applies to several areas. For some, this may be something simple such as a phone number and address for a specific facility or a list of jails and prisons in a given area or state, but for others, more specific information is needed. It can be difficult to navigate and locate specific information when under stress about a current or recent conviction of a friend or family member, but InmatesPlus can help. InmatesPlus provides a single place to find the DOC information you need for both specific institutions and general DOC information that can be applied to the majority of institutions and inmates. A list of all the jails and prisons in Indiana is included with links to each facility website if one exists. This allows you to quickly find the page you need and look up inmates, typically with little more than a legal name or inmate number. This can be important for friend, family member, and even victims that want to know where an inmate is located and for how long. Many times, this also lists charges that are pending or have been resolved and a sentence given.
For family members who need general information regarding inmates in Indiana, InmatesPlus can further help. There are articles and ideas on how to stay in touch with your loved one, what helps, and the types of items available through most commissaries. This can also help others to understand the need and importance of contact with those on the outside for inmates. Jail is scary, lonely, and disconcerting for both those in prison and those left behind. InmatesPlus can ease some fears through DOC information.
There are a number of reasons you may be unable to locate an inmate in Indiana, but none make the lack of knowledge any easier. InmatesPlus was created to help ease some of the burden of trying to locate an inmate or find reliable information about being in jail or prison. If you are unable to locate an inmate in Indiana for whatever reason, InmatesPlus can offer a list of facilities and basic info, but also offers a link to a third-party site called VINELink. This site was originally designed for victims of crimes to serve as a way to know when an inmate was convicted, for what they were convicted, and how long of a sentence was received. VINE stands for Victim Information and Notification Everyday and serves mainly as a victim notification network.
This serves to empower both victims and concerned citizens in a reliable way. Once registered, which is kept confidential, you can search for the inmate information you want with a state and full name for the inmate. Once found, information such as a mug shot, sentence length, list of charges, and more are provided free of charge. For added security, anyone can sign up for alerts about a specific inmate. This can come in the form of a text, email, phone call, or even through TTY services if needed. The peace of mind of being able to simply access this information can help victims more on with life and help concerned family members and friends to know how long a person will be missing from their lives.