Search by Name
North Dakota Inmate Search
State Prison Search
ND DOC Information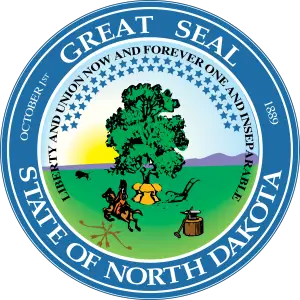 Authority: North Dakota Corrections and Rehabilitation
Website: https://docr.nd.gov/
Address: 3100 Railroad Avenue, Bismarck, ND 58502
Phone: (701) 328-6390
List of Jails and Prisons in North Dakota
| Name | City | Address | State | Type | Phone Number | Locator Link |
| --- | --- | --- | --- | --- | --- | --- |
| Dakota Women's Correctional and Rehabilitation Center | New England | 440 McKenzie St, New England, ND 58647 | North Dakota | Prison | 701-579-5100 | Click Here |
| James River Correctional Center | Jamestown | 2521 Circle Drive Jamestown, ND 58401 | North Dakota | Prison | 701-253-3660 | Click Here |
| Missouri River Correctional Center | Bismarck | 1800 48th Ave SW, Bismarck, ND 58506 | North Dakota | Prison | 701-328-9696 | Click Here |
| North Dakota State Penitentiary | Bismarck | 3100 Railroad Ave, Bismarck, ND 58501 | North Dakota | Prison | 701-328-6100 | Click Here |
| North Dakota Youth Correctional | Mandan | 701 16th Ave SW, Mandan, ND 58554 | North Dakota | Prison | 701-667-1400 | Click Here |
| Oliver County Jail | Hensler | 115 Main St, Hensler, ND 58530 | North Dakota | Jail | 701-794-3450 | Click Here |
| Grant County Jail | NE Carson | 106 2nd Ave. NE Carson, ND 58529 701-622 | North Dakota | Jail | 701-622-3331 | Click Here |
| Griggs County Jail | Cooperstown | 808 Rollin Ave SW, Cooperstown, ND 58425 | North Dakota | Jail | 701-797-2202 | Click Here |
| Pembina County Jail | Cavalier | 308 Court House Dr #2, Cavalier, ND 58220 | North Dakota | Jail | 701-265-4122 | Click Here |
| Towner County Jail | Cando | 315 2nd St, Cando, ND 58324 | North Dakota | Jail | 701-968-4350 | Click Here |
| Traill County Jail | Hillsboro | 118 W Caledonia Ave, Hillsboro, ND 58045 | North Dakota | Jail | 701-636-4510 | Click Here |
| Barnes County Jail | Valley City | 575 10th St SW Suite 4, Valley City ND 58072 | North Dakota | Jail | 701-845-8530 | Click Here |
| Benson County Jail | Minnewaukan | 311 B Ave S, Minnewaukan, ND 58351 | North Dakota | Jail | 701-473-5357 | Click Here |
| Billings County Jail | Medora | 495 4th St, Medora, ND 58645 | North Dakota | Jail | 701-623-4323 | Click Here |
| Logan County Sheriff's Jail | Napoleon | 01 Broadway, Napoleon, ND 58561 | North Dakota | Jail | 701-754-2495 | Click Here |
| Foster County Jail | Carrington | 1000 5th St N, Carrington, ND 58421 | North Dakota | Jail | 701-652-2251 | Click Here |
| Hettinger County Jail | Mott | 336 Pacific Ave, Mott, ND 58646 | North Dakota | Jail | 701-824-2935 | Click Here |
| Bottineau County Jail | Bottineau | 314 5th St W, Bottineau, ND 58318 | North Dakota | Jail | 701-228-2740 | Click Here |
| Bowman County Jail | Bowman | 104 1st St NW #9, Bowman, ND 58623 | North Dakota | Jail | 701-523-5421 | Click Here |
| Burke County Jail | Bowbells | 103 Railway St SE, Bowbells, ND 58721 | North Dakota | Jail | 701-377-2311 | Click Here |
| Pierce County Jail | Rugby | 110 Industrial Rd, Rugby, ND 58368 | North Dakota | Jail | 701-776-2221 | Click Here |
| Stark County Jail | Dickinson | 66 Museum Drive West, Dickinson ND 58601 | North Dakota | Jail | 701-456-7610 | Click Here |
| Nelson County Jail | Lakota | 210 B Ave W, Lakota, ND 58344 | North Dakota | Jail | 701-247-2474 | Click Here |
| Walsh County Jail | Grafton | 638 Cooper Ave # 2, Grafton, ND 58237 | North Dakota | Jail | 701-352-2041 | Click Here |
| Golden Valley County Sheriff's Jail | Beach | 150 1st Ave SE, Beach, ND 58621 | North Dakota | Jail | 701-872-4733 | Click Here |
| McKenzie County Jail | Watford City | 1201 12th St SE, Watford City, ND 58854 | North Dakota | Jail | 701.842.6010 | Click Here |
| Cavalier County Jail | Langdon | 901 3rd St #4, Langdon, ND 58249 | North Dakota | Jail | 701-256-2555 | Click Here |
| Williams County Jail | Williston | 223 E Broadway #302, Williston, ND 58801 | North Dakota | Jail | 701-577-4585 | Click Here |
| Adams County Jail | Hettinger | 604 Adams Ave, Hettinger, ND 58639 | North Dakota | Jail | 701-567-2530 | Click Here |
| LaMoure County Jail | Lamoure | 202 4th Ave NE, Lamoure, ND 58458 | North Dakota | Jail | 701-883-5720 | Click Here |
| Sargent County Jail | Forman | 355 Main St S # 6, Forman, ND 58032 | North Dakota | Jail | 701-724-3302 | Click Here |
Unable to Locate an Inmate in North Dakota
Having a loved one lost somewhere in the prison system is frustrating. It is also unsettling to be the victim of a crime and be unaware of where the person who violated your life is located. Both of these situations can be helped by using InmatesPlus. If you are unable to locate an inmate in North Dakota, but know the area in which they are located, then start by checking the links for facilities in that area. Using a legal name, first and last, simply search the jail or prison facility to gather current information. This can help you know where an inmate is and a sentence length or charges if no sentence has yet been given.
If you are still unable to locate an inmate in North Dakota then there is another option. VINELink is a third-party site that makes searching the entire state a relatively easy process. Originally created for crime victims, VINELink, following a short, free registration process allows a user to search all the facilities in an area using only a full legal name or inmate ID number. Once located, a user can find out the updated, available information for that inmate. This may include information such as a mugshot, charges, and even a sentence length. This gives former victims peace of mind and may help loved ones know what to expect as far as sentence length. VINELink is updated daily so information is current within the last 24 hours each and every day. This can be beneficial to all.
When you do locate an inmate or have the basic information to do so, you can gain the DOC information needed to contact that person. DOC information can take on many meanings. For most, DOC information is basically an inmate ID number that will have to be put on all correspondence to the inmate and used when adding money to an inmate account. While this is true, further DOC information about a specific facility can also be helpful. InmatesPlus can offer all the information needed to write letters, put money on the books, and provide links to lists of items that are allowed to be sent to your loved one who is incarcerated. While this may not seem like something important, staying in contact with a loved one whether they are serving months, years, or awaiting trial, is important. Being in contact with someone outside the jail can boost spirits and help with rehabilitation.
DOC information can also change from facility to facility. This may include the inmate ID number, allowable items, and even how to transfer money into accounts. Other important information such as a mailing address, visiting hours, and how an inmate can contact others can also be found. DOC information serves a great deal of purpose when needing information for and from those who are incarcerated. Furthermore, if you are unsure of a person's charges or sentence length, having specific DOC information can help you to find out more. InmatesPlus can help with all of this information with just a few clicks.