Search by Name
West Virginia Inmate Search
State Prison Search
WV DOC Information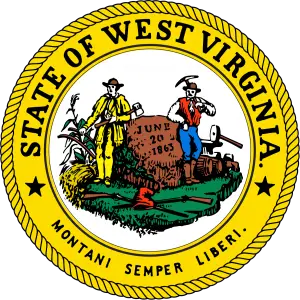 Authority: West Virginia Division of Corrections and Rehabilitation
Website: https://dcr.wv.gov
Address: 112 California Ave, Charleston, WV 25305
Phone: (304) 558-2036
List of Jails and Prisons in West Virginia
| Name | City | Address | State | Type | Phone Number | Locator Link |
| --- | --- | --- | --- | --- | --- | --- |
| United States Penitentiary, Hazelton | Bruceton Mills | 1640 Sky View Dr, Bruceton Mills, WV 26525 | West Virginia | USP | 304-379-5000 | Click Here |
| Federal Correctional Institution, Beckley | Beaver | 1600 Industrial Park Rd, Beaver, WV 25813, USA | West Virginia | Federal | 304-252-9758 | Click Here |
| Federal Correctional Institution, Gilmer | Glenville | 201 FCI Ln, Glenville, WV 26351 | West Virginia | Federal | 304-626-2500 | Click Here |
| Federal Correctional Institution, Hazelton | Bruceton Mills | 1640 Sky View Dr, Bruceton Mills, WV 26525 | West Virginia | Federal | 304-379-1500 | Click Here |
| Federal Correctional Institution, McDowell | Welch | 101 Federal Drive, Welch, WV 24801, USA | West Virginia | Federal | 304-436-7300 | Click Here |
| Federal Correctional Institution, Morgantown | Morgantown | 446 Green Bag Road, Morgantown, WV 26501, USA | West Virginia | Federal | 304-296-4416 | Click Here |
| Federal Prison Camp, Alderson | Alderson | 1 Glen Ray Rd, Alderson, WV 24910, USA | West Virginia | Camp | 304-445-3300 | Click Here |
| Anthony Correctional Center | White Sulphur Springs | 313 Anthony Center Drive, White Sulphur Springs, WV 24986 | West Virginia | Prison | 304-536-3911 | Click Here |
| Beckley Correctional Center | Beckley | 111 S. Eisenhower Drive, Beckley, WV 25801 | West Virginia | Prison | 304-256-6780 | Click Here |
| Charleston Correctional Center | Charleston | 1356 Hansford St., Charleston, WV 25301 | West Virginia | Prison | 304-340-6921 | Click Here |
| Denmar Correctional Center | Hillsboro | 4319 Denmar Road, Hillsboro, WV 24946 | West Virginia | Prison | 304-653-4201 | Click Here |
| Huttonsville Correctional Center | Huttonsville | P.O. Box 1, Huttonsville, WV 26273 | West Virginia | Prison | 304-335-2291 | Click Here |
| Lakin Correctional Center | West Columbia | 11264 Ohio River Road, West Columbia, WV 25287 | West Virginia | Prison | 304-674-2440 | Click Here |
| Martinsburg Correctional Center | Martinsburg | 38 Grapevine Rd, Martinsburg, WV 25405 | West Virginia | Prison | 304-267-0156 | Click Here |
| Mount Olive Correctional Complex | West Virginia | 1 Mountainside Way, Mt. Olive, West Virginia 25185 | West Virginia | Prison | 304-442-7213 | Click Here |
| Northern Correctional Facility | Moundsville | 112 Northern Regional Correctional Drive, Moundsville, WV 26041 | West Virginia | Prison | 304-843-4067 | Click Here |
| Ohio County Correctional Center | Wheeling | 1501 Eoff Street, Wheeling WV 26003 | West Virginia | Prison | 304-238-1007 | Click Here |
| Parkersburg Correctional Center | Parkersburg | 225 Holiday Hills Drive, Parkersburg, WV 26104 | West Virginia | Prison | 304-420-2443 | Click Here |
| Pruntytown Correctional Center | Grafton | 2006 Trap Springs Rd, Grafton, WV 26354 | West Virginia | Prison | 304-265-6111 | Click Here |
| Saint Marys Correctional Center | St Marys | 2880 N Pleasants Hwy, St Marys, WV 26170 | West Virginia | Prison | 304-684-5500 | Click Here |
| Salem Correctional Center | Industrial | 7 Industrial Blvd., Industrial, WV 26426 | West Virginia | Prison | 304-782-2371 | Click Here |
| Pendleton County Jail | Franklin | 100 S Main St, Franklin, WV 26807 | West Virginia | Jail | 304-358-2214 | Click Here |
| Monroe County Jail | Union | 350 Main St, Union, WV 24983 | West Virginia | Jail | 304-772-3018 | Click Here |
| Wood County Jail | Parkersburg | 300 2nd St, Parkersburg, WV 26101 | West Virginia | Jail | 304-424-1945 | Click Here |
Unable to Locate an Inmate in West Virginia
DOC information is helpful when someone you know or love has been incarcerated. The West Virginia DOC information you need may not be readily available from the actual facility as officers are often busy with other tasks and unable to answer questions. However, InmatesPlus.com can help you locate the DOC information you need to learn about the person you are looking for. For some, this may be information on a bond, charges, or sentence length, but others may want to know how to write, how to add money, or even how to schedule a visit. No matter what DOC information you need, InmatesPlus is the place to start. Every facility that offers a website in West Virginia is linked and basic information can be located through those sites.
InmatesPlus can provide the basics and though specifics should always be checked with the actual facility, this can give you a strong understanding of what is and is not allowable. This can also help you know what to expect when dealing with the DOC in West Virginia and other states. DOC information is available all over the internet, but gathering all that information together in a single resource makes it much easier to locate and keep track of a single person. Make your life easier by using InmatesPlus as a go to resource that answers almost any question you have about a specific facility and links you to answers for those that cannot be answered in general. West Virginia DOC information can be tough to track down, but InmatesPlus will make it simple.
Not knowing where an inmate is can be scary for victims and unsettling for friends and family members. If you are unable to locate an inmate in West Virginia then InmatesPlus can help. Providing you have an idea of what state an inmate if located in and their legal name, then an inmate can be found. It is simple to use InmatesPlus to check different facilities. However, if you are still unable to locate an inmate in West Virginia, then there are other options. A third-party site called VINELink can be helpful and is also linked here.
VINELink is a free site, though registration is required. All of your information remains confidential and the site allows you to search a specific state for any inmate in which you have a full name or inmate ID number for at the time. This is important if you are a victim who wants to track a specific inmate or a friend or family member that needs to find someone you have lost contact with over time. The site offers information such as convictions, time served and time remaining on a sentence. This can be helpful in setting up a place for an inmate to be released to or knowing when someone who has committed a crime against you will be released into the area. No matter what the reason you need to know where an inmate is located, we can help make the process easier and less time consuming. Start a simple search today.