Search by Name
Louisiana Inmate Search
State Prison Search
LA DOC Information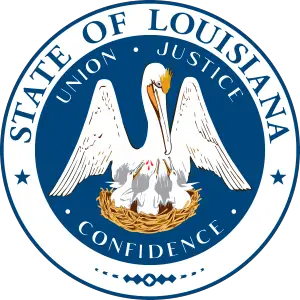 Authority: Louisiana Department of Corrections
Website: https://doc.louisiana.gov
Address: 504 Mayflower Street Baton Rouge, LA 70802
Phone: (225) 342-3095
List of Jails and Prisons in Louisiana
| Name | City | Address | State | Type | Phone Number | Locator Link |
| --- | --- | --- | --- | --- | --- | --- |
| United States Penitentiary, Pollock | Pollock | 1000 Airbase Rd, Pollock, LA 71467, USA | Louisiana | Federal | 318-765-3119 | Click Here |
| Federal Correctional Institution, Oakdale | Oakdale | 1507 E Whatley Rd, Oakdale, LA 71463, | Louisiana | Federal | 318-335-4070 | Click Here |
| Federal Correctional Institution, Pollock | Pollock | 1000 Airbase Rd, Pollock, LA 71467, USA | Louisiana | Federal | 318-765-4400 | Click Here |
| Federal Detention Center, Oakdale | Oakdale | 2105 E Whatley Rd, Oakdale, LA 71463, USA | Louisiana | Federal | 318-335-7500 | Click Here |
| Allen Correctional Center | Kinder | 3751 Lauderdale Woodyard Rd, Kinder, LA 70648 | Louisiana | Prison | 337-639-2942 | Click Here |
| Avoyelles Correctional Center | Cottonport | 1630 Prison Road Cottonport, LA 71327 | Louisiana | Prison | 318-876-2891 | Click Here |
| David Wade Correctional Center | Homer | 670 Bell Hill Rd, Homer, LA 71040 | Louisiana | Prison | 318-927-0400 | Click Here |
| Dixon Correctional Institute | Jackson | 5568 LA-68, Jackson, LA 70748 | Louisiana | Prison | 225-634-1200 | Click Here |
| Elayn Hunt Correctional Center | St Gabriel | 6925 LA-74, St Gabriel, LA 70776 | Louisiana | Prison | 225-642-3306 | Click Here |
| Louisiana Correctional Institute for Women | St Gabriel | 7205 LA-74, St Gabriel, LA 70776 | Louisiana | Prison | 225-319-2701 | Click Here |
| Louisiana State Penitentiary | Angola | 17544 Tunica Trace, Angola, LA 70712 | Louisiana | Prison | 225-655-4411 | Click Here |
| B.B. Rayburn Correctional Center | Angie | 27268 LA-21, Angie, LA 70426 | Louisiana | Prison | 985-661-6300 | Click Here |
| Winn Correctional Center | Winnfield | 180 Cca Blvd, Winnfield, LA 71483 | Louisiana | Prison | 318-628-3971 | Click Here |
| Tensas Parish Jail | St. Joseph | 203 Hancock Street, St. Joseph, LA 71366 | Louisiana | Jail | 318-766-3961 | Click Here |
| Terrebonne County Jail | Houma | 7856 W Main St #121, Houma, LA 70360 | Louisiana | Jail | 985-876-2500 | Click Here |
| Beauregard Parish Jail | DeRidder | 412 Bolivar Bishop Dr, DeRidder, LA 70634 | Louisiana | Jail | 337-463-3281 | Click Here |
| Bienville Parish Jail | Arcadia | 100 Courthouse Dr, Arcadia, LA 71001 | Louisiana | Jail | 318-263-2302 | Click Here |
| Washington Parish Jail | Franklinton | 1002 Main St, Franklinton, LA 70438 | Louisiana | Jail | 985-839-3434 | Click Here |
| Webster Parish Jail | Minden | 1455 Bravo Blvd, Minden, LA 71055 | Louisiana | Jail | 318-371-4301 | Click Here |
| Concordia Parish Jail | Vidalia | 4001 Carter Street, Room 7, Vidalia, LA 71373 | Louisiana | Jail | 318-336-5231 | Click Here |
| Morehouse Parish Jail | Bastrop | 250 E Walnut Ave, Bastrop, LA 71220 | Louisiana | Jail | 318-281-9336 | Click Here |
| Winn Parish Jail | Winnfield | 119 W Main St #106, Winnfield, LA 71483 | Louisiana | Jail | 318-628-4611 | Click Here |
| Allen Parish Jail | Oberlin | 7340 LA-26, Oberlin, LA 70655 | Louisiana | Jail | 337-639-4353 | Click Here |
Unable to Locate an Inmate in Louisiana
If you have been unable to locate an inmate in Louisiana then we can help. While you can waste time calling random facilities and hoping someone will answer and provide the information you are looking for, InmatesPlus makes it easier to find an inmate from the comfort of your home computer. So, if you are unable to locate an inmate in Louisiana start with InmatesPlus. The site allows you to search specific facilities in the state with little more than a legal name. If you have an idea of what facility the person is in or the general area, then this may be the easiest way to gather information. However, if you are still unable to locate an inmate in Louisiana, then VINELink can be helpful.
VINELink is a third-party site created for victims of crimes, but free for everyone to use after a simple registration process. VINELink will search for inmates in a given state with only a legal name. Once the inmate is found, information about the facility in which they are located, their convictions, a mug shot, and potential release date is provided. Any up to the date information that is available to the public is given with a few clicks of a button. Furthermore, any searches can be registered to send updates to the phone, text, email, or through TTY services in several languages if a victim or concerned community member so desires. This is great for peace of mind for victims, but also provides friends and family members a facility name so InmatesPlus can teach them how to keep contact through various means. Start your search when you are ready.
Dealing with the penal system can be overwhelming and frustrating, especially for those who have never had to deal with it previously. There is a wealth of DOC information that is available on everything from writing letters and adding money to an inmate's books to sentence length and aliases. However, finding this DOC information can seem like a pointless search for buried treasure. This is where InmatesPlus can help. InmatesPlus offers links to specific jails and prisons with addresses and phone numbers as needed.
Additionally, the DOC information that is not normally included on a penal system website can be found on InmatesPlus. For those who have not had to handle a loved one going to jail prior to this moment, it can be tough to know how to gain information, updates, or even send a letter. InmatesPlus provides articles to answer some of the common basic questions so that fewer surprises will occur during the sentence. While every jail and prison have different rules and regulations, the basic information is always the same. It is never hard to have a loved one in jail or prison, even if the sentence is relatively short, but keeping in touch and offering ways to keep the inmate distracted so time passes faster, is important. InmatesPlus can help you know where to get started, whether it is by filling out a visitation form or writing a letter that must be addressed with the inmate's ID number. We can help with just a few clicks of the mouse.