Search by Name
Delaware Inmate Search
State Prison Search
DE DOC Information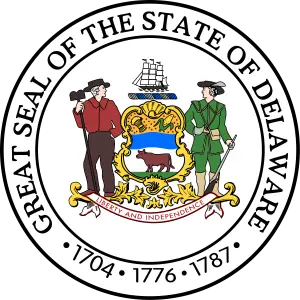 Authority: Delaware Department of Correction
Website: https://doc.delaware.gov/
Address: 314 Cherry Ln, New Castle, DE 19720
Phone: (302) 577-3443
List of Jails and Prisons in Delaware
| Name | City | Address | State | Type | Phone Number | Locator Link |
| --- | --- | --- | --- | --- | --- | --- |
| Baylor Women's Correctional Institution | New Castle | 660 Baylor Blvd, New Castle, DE 19720 | Delaware | Prison | 302-577-3004 | Click Here |
| Central Violation of Probation Center | Smyrna | 875 Smyrna Landing Rd, Smyrna, DE 19977 | Delaware | Prison | 302-659-6100 | Click Here |
| Hazel D. Plant Women's Treatment Facility | New Castle | 620 Baylor Blvd New Castle, DE 19720 | Delaware | Prison | 302-777-6800 | Click Here |
| Howard R. Young Correctional Institution | Wilmington | 1301 E 12th St, Wilmington, DE 19802 | Delaware | Prison | 302-429-7700 | Click Here |
| James T. Vaughn Correctional Center | Smyrna | 1181 Paddock Rd, Smyrna, DE 19977 | Delaware | Prison | 302-653-9261 | Click Here |
| Morris Community Corrections Center | Dover | 300 W Water St, Dover, DE 19904 | Delaware | Prison | 302-739-4758 | Click Here |
| Plummer Community Corrections Center | Wilmington | 38 Todds Ln, Wilmington, DE 19802 | Delaware | Prison | 302-761-2800 | Click Here |
| Sussex Community Corrections Center | Georgetown | 23207 Dupont Blvd, Georgetown, DE 19947 | Delaware | Prison | 302-856-5790 | Click Here |
| Sussex Correctional Institution | Georgetown | 23203 Dupont Blvd, Georgetown, DE 19947 | Delaware | Prison | 302-856-5280 | Click Here |
| Sussex County Jail | Georgetown | 2 The Circle, Georgetown, DE 19947 | Delaware | Jail | 302-855-7700 | Click Here |
| New Castle County Jail | Wilmington | 800 N. French St., 5th Floor, Wilmington, DE 19801 | Delaware | Jail | 302-395-8450 | Click Here |
Unable to Locate an Inmate in Delaware
An arrest, holding area, or conviction is life changing not only for the person who has been arrested, but for friends, family members, and victims. For different reasons, you may wish to locate an inmate within the system, but have very little information about where they are located. This is where InmatesPlus can help. Though InmatesPlus also offers advice, forms, rules, and regulations about visiting or helping someone who has been incarcerated, it is greatly useful in locating inmates.
If you are unable to locate an inmate in Delaware, this is the place to start. Every facility within the state is linked for easy access and addresses are provided for easy of making contact. If you are still unable to locate an inmate in Delaware than there is another option that has been made available. Using VINELink, a third-party site that is free, you are able to locate an inmate with only the state and full, legal name. This site then provides information such as convictions, sentence length, and potential release date to help others feel safer and know who has served a sentence in the area. InmatesPlus can also offer further information, once you have located the inmate, by providing ways to help those who are incarcerated to do their time and prepare for a life outside of jail or prison. It is important to remember that those who are serving time are not necessarily bad people, just those that have made a big mistake and can use jail as a way to get back on track.
Perhaps you have been on the receiving end of a phone in which a loved one or friend has been arrested. This may be second hand information that provides little else than the knowledge that someone you know and love is behind bars in the state in which they live. Immediately, your mind is flooded with questions that may not be answerable with a single search. This is where InmatesPlus can be extremely helpful. Start by searching for the facility in Delaware that the person has been incarcerated in and then read up on ways to help. Prison or jail, whether given a lengthy sentence or awaiting trial can quickly steal hope from a person, but having contact with the outside world is beneficial. In order to stay in contact, you will need some basic DOC information that makes is easier.
This DOC information can be found on InmatesPlus by searching a specific facility. Even if you have the DOC information you need, InmatesPlus can provide you with ideas and legal ways to stay in contact or help out an inmate over time. Even when incarcerated, people need to hear from family and friends through letters and may even need to know phone numbers to be able to contact other loved ones. Additionally, inmate will need funds added to their accounts while serving a sentence and DOC information helps you to be able to do this if you are able. Utilize InmatesPlus to gain the information you need to make a bad situation a bit better.