Search by Name
Georgia Inmate Search
State Prison Search
GA DOC Information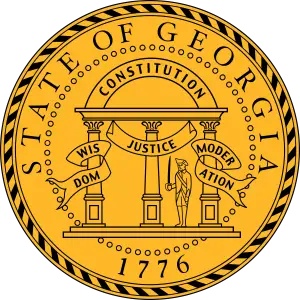 Authority: The Georgia Department of Corrections
Website: http://www.dcor.state.ga.us/
Address: 4600 Fulton Mill Rd, Macon, GA 31208
Phone: (478) 471-2906
List of Jails and Prisons in Georgia
| Name | City | Address | State | Type | Phone Number | Locator Link |
| --- | --- | --- | --- | --- | --- | --- |
| United States Penitentiary, Atlanta | Atlanta | 601 McDonough Blvd SE, Atlanta, GA 30315, USA | Georgia | Federal | 404-635-5100 | Click Here |
| Federal Correctional Institution, Jesup | Jesup | 2600 US-301, Jesup, GA 31599, USA | Georgia | Federal | 912-427-0870 | Click Here |
| D. Ray James Correctional Institution | Folkston | 3262 GA-252, Folkston, GA 31537, USA | Georgia | Private | 912-496-6242 | Click Here |
| McRae Correctional Institution | McRae | 112 Jim Hammock Dr, McRae, GA 31055 | Georgia | Private | 229-868-7778 | Click Here |
| Arrendale State Prison | Alto | 2023 Gainesville Hwy, Alto, GA 30510 | Georgia | Prison | 706-776-4700 | Click Here |
| Augusta State Medical Prison | Grovetown | 3001 Gordon Hwy, Grovetown, GA 30813 | Georgia | Prison | 706-855-4700 | Click Here |
| Autry State Prison | Pelham | 3178 Mt Zion Church Rd, Pelham, GA 31779 | Georgia | Prison | 229-294-2940 | Click Here |
| Baldwin State Prison | Hardwick | 140 Laying Farm Rd, Hardwick, GA 31034 | Georgia | Prison | 478-445-5218 | Click Here |
| Bulloch County CI | STATESBORO | 17301 U.S.HWY 301 NORTH BLDG. 209 STATESBORO GA 30458 | Georgia | Prison | 912-764-6217 | Click Here |
| Burruss Correctional Training Center | FORSYTH | 1000 INDIAN SPRINGS DRIVE FORSYTH GA 31029 | Georgia | Prison | 478-994-7511 | Click Here |
| Calhoun State Prison | Morgan | 27823 W Main St, Morgan, GA 39866 | Georgia | Prison | 229-849-5000 | Click Here |
| Carroll County Correctional Institution | Carrollton | 96 Horsley Mill Rd, Carrollton, GA 30117 | Georgia | Prison | 770-830-5903 | Click Here |
| Central State Prison | Macon | 4600 Fulton Mill Rd, Macon, GA 31208 | Georgia | Prison | 478-471-2907 | Click Here |
| Clarke County Correctional Institution | ATHENS | 2825 COUNTY FARM ROAD ATHENS GA 30605 | Georgia | Prison | 706-613-3400 | Click Here |
| Clayton County Correctional Institution | Lovejoy | 11420 S.L.R. Boulevard Lovejoy, GA 30250 | Georgia | Prison | 770-473-5777 | Click Here |
| Coastal State Prison | Garden City | 200 Gulfstream Rd, Garden City, GA 31418 | Georgia | Prison | 912-965-6330 | Click Here |
| Coffee Correctional Facility | Nicholls | 1153 N Liberty St, Nicholls, GA 31554 | Georgia | Prison | 912-345-5058 | Click Here |
| Colquitt County Correctional Institution | Moultrie | 200 S Vandenberg Dr, Moultrie, GA 31788 | Georgia | Prison | 229-616-7490 | Click Here |
| Coweta County CI | NEWNAN | 101 SELT ROAD NEWNAN GA 30263 | Georgia | Prison | 770-254-3723 | Click Here |
| Decatur County Correctional | BAINBRIDGE | 1153 AIRPORT ROAD BAINBRIDGE GA 39817 | Georgia | Prison | 229-248-3035 | Click Here |
| Dodge State Prison | Chester | 2971 Old Bethel Church Road, Chester, GA | Georgia | Prison | 478-358-7200 | Click Here |
| Dooly State Prison | Unadilla | 1412 Plunket Rd, Unadilla, GA 31091 | Georgia | Prison | 478-627-2000 | Click Here |
| Effingham County Correctional | Springfield | 321 Highway 119 S Springfield, GA 31329 | Georgia | Prison | 912-754-2108 | Click Here |
| Emanuel Womens Facility | Swainsboro | 714 Gumlog Rd, Swainsboro, GA 30401 | Georgia | Prison | 478-289-2748 | Click Here |
| Floyd County Prison | Rome | 329 Blacks Bluff Rd SW, Rome, GA 30161 | Georgia | Prison | 706-236-2490 | Click Here |
| Georgia Diagnostic and Classification Prison | Jackson | 2978 GA-36, Jackson, GA 30233 | Georgia | Prison | 770-504-2000 | Click Here |
| Georgia State Prison | Reidsville | 300 1st Ave S, Reidsville, GA 30453 | Georgia | Prison | 404-656-4661 | Click Here |
| Gwinnett County Correctional Institution | Lawrenceville | 750 Hi Hope Rd, Lawrenceville, GA 30043 | Georgia | Prison | 678-407-6000 | Click Here |
| Hall County Correctional Institution | Gainesville | 694 Barber Rd, Gainesville, GA 30507 | Georgia | Prison | 770-718-2370 | Click Here |
| Hancock State Prison | Sparta | 701 Prison Blvd, Sparta, GA 31087 | Georgia | Prison | 706-444-1000 | Click Here |
| Harris County Correctional Institution | Hamilton | 9982 GA-116, Hamilton, GA 31811 | Georgia | Prison | 706-628-4959 | Click Here |
| Hays State Prison | Trion | 777 Underwood Dr, Trion, GA 30753 | Georgia | Prison | 706-857-0400 | Click Here |
| Jackson County Correctional Institution | Jefferson | 265 I W Davis Rd, Jefferson, GA 30549 | Georgia | Prison | 706-387-6450 | Click Here |
| Jefferson County Correctional | Louisville | 1159 Clarks Mill Road Louisville, GA 30434 | Georgia | Prison | 478-625-7230 | Click Here |
| Johnson State Prison | Wrightsville | 290 Donovan Rd, Wrightsville, GA 31096 | Georgia | Prison | 478-864-4100 | Click Here |
| Lee State Prison | Leesburg | 153 Pinewood Rd, Leesburg, GA 31763 | Georgia | Prison | 229-759-6453 | Click Here |
| Long State Prison | LUDOWICI | 1434 US HWY 84 EAST LUDOWICI GA 31316 | Georgia | Prison | 912-545-3777 | Click Here |
| Macon State Prison | Oglethorpe | 2728 GA-49, Oglethorpe, GA 31068 | Georgia | Prison | 478-472-3400 | Click Here |
| Mitchell County Correctional | Camilla | 4838 Highway 37 East Camilla, GA 31730 | Georgia | Prison | 229-336-2045 | Click Here |
| Montgomery State Prison | Mt Vernon | 650 Mt Vernon Alston Rd, Mt Vernon, GA 30445 | Georgia | Prison | 912-583-3600 | Click Here |
| Muscogee County Correctional | COLUMBUS | 7175 SACERDOTE LANE COLUMBUS GA 31908 | Georgia | Prison | 706-641-5800 | Click Here |
| Philips State Prison | Buford | 2989 W Rock Quarry Rd NE, Buford, GA 30519 | Georgia | Prison | 770-932-4500 | Click Here |
| Pulaski State Prison | Hawkinsville | 373 Upper River Rd, Hawkinsville, GA 31036 | Georgia | Prison | 478-783-6000 | Click Here |
| Richmond County Correctional | Augusta | 2314 Tobacco Rd. Augusta, GA 30906 | Georgia | Prison | 706-798-5572 | Click Here |
| Rogers State Prison | REIDSVILLE | 1978 GEORGIA HIGHWAY 147 REIDSVILLE GA 30453 | Georgia | Prison | 912-557-7771 | Click Here |
| Rutledge State Prison | Columbus | 7175 Manor Rd, Columbus, GA 31907 | Georgia | Prison | 706-568-2340 | Click Here |
| Screven County Prison | Sylvania | 859 Rocky Ford Rd, Sylvania, GA 30467 | Georgia | Prison | 912-564-2013 | Click Here |
| Smith State Prison | Glennville | 9676 US-301, Glennville, GA 30427 | Georgia | Prison | 912-654-5000 | Click Here |
| Spalding County Correctional Institution | Griffin | 295 Justice Boulevard Griffin, Georgia 30223 | Georgia | Prison | 770-467-4760 | Click Here |
| Telfair State Prison/Milan Unit | Helena | 170 Long Bridge Rd, Helena, GA 31037 | Georgia | Prison | 229-868-7721 | Click Here |
| Terrell County Correctional Institution | Dawson | 3110 Albany Hwy, Dawson, GA 39842 | Georgia | Prison | 229-995-5381 | Click Here |
| Thomas County Correctional | THOMASVILLE | 324 COUNTY FARM Road THOMASVILLE GA 31757 | Georgia | Prison | 229-226-4394 | Click Here |
| Troup County Correctional Institution | LaGrange | 2508 Hamilton Rd, LaGrange, GA 30241 | Georgia | Prison | 706-883-1720 | Click Here |
| Valdosta State Prison and Annex | Valdosta | 3259 Val Tech Rd, Valdosta, GA 31602 | Georgia | Prison | 229-333-7900 | Click Here |
| Walker State Prison | Rock Spring | 97 Kevin Ln, Rock Spring, GA 30739 | Georgia | Prison | 706-764-3600 | Click Here |
| Ware State Prison | Waycross | 3620 Harris Rd, Waycross, GA 31503 | Georgia | Prison | 912-285-6400 | Click Here |
| Washington State Prison | Davisboro | 13262 GA-24, Davisboro, GA 31018 | Georgia | Prison | 478-348-5814 | Click Here |
| Wheeler Correctional Facility | Alamo | 195 N Broad St, Alamo, GA 30411 | Georgia | Prison | 912-568-1731 | Click Here |
| Wilcox State Prison | Abbeville | 470 S Broad St, Abbeville, GA 31001 | Georgia | Prison | 229-467-3000 | Click Here |
| Greene County Jail | Greensboro | 1201 Kevin Roberts Way, Greensboro, GA 30642 | Georgia | Jail | 706-453-3351 | Click Here |
| Gwinnett County Jail | Lawrenceville | 2900 University Pkwy, Lawrenceville, GA 30043 | Georgia | Jail | 770-619-6500 | Click Here |
| Habersham County Jail | Clarkesville | 1000 Detention Dr, Clarkesville, GA 30523 | Georgia | Jail | 706-839-0500 | Click Here |
| Charlton County Jail | FOLKSTON | 100 SOUTH THIRD STREET, FOLKSTON GA 31537 | Georgia | Jail | 912-496-7321 | Click Here |
| Chattahoochee County Jail | CUSSETA | 379 BROAD STREET, CUSSETA, GA 31805 | Georgia | Jail | 706-989-3644 | Click Here |
| Clarke County Jail | Athens | 325 E. Washington St., Athens, GA 30601 | Georgia | Jail | 706-613-3250 | Click Here |
| Peach County Jail | Fort Valley | 1007 Spruce Street - Fort Valley, GA 31030 | Georgia | Jail | 478-825-8269 | Click Here |
| Talbot County Jail | Talbotton | 1761 Geneva Hwy, Talbotton, GA 31827 | Georgia | Jail | 706-665-8314 | Click Here |
| Telfair County Jail | Georgia | 11 E Oak St, Georgia 31055 | Georgia | Jail | 229-868-6611 | Click Here |
| Terrell County Jail | DAWSON | 3110 ALBANY HIGHWAY, DAWSON, GA, 39842 | Georgia | Jail | 229-995-4012 | Click Here |
| Jeff Davis County Jail | Hazlehurst | 15 Pub Safety Dr, Hazlehurst, GA 31539 | Georgia | Jail | 912-375-6600 | Click Here |
| Johnson County Jail | Wrightsville | 230 Donovan Harrison Rd, Wrightsville, GA 31096 | Georgia | Jail | 478-864-3941 | Click Here |
| Baldwin County Jail | Milledgeville | 119 Old Monticello Rd NW, Milledgeville, GA 31061 | Georgia | Jail | 478-445-4314 | Click Here |
| Banks County Jail | Homer | 160 Windmill Farm Road, Homer, GA 30547 | Georgia | Jail | 706-677-2248 | Click Here |
| Bartow County Jail | Cartersville | 104 Zena Dr, Cartersville, GA 30121 | Georgia | Jail | 770-382-5050 | Click Here |
| Berrien County Jail | Nashville | 500 County Farm Rd, Nashville, GA 31639 | Georgia | Jail | 229-686-7664 | Click Here |
| Bibb County Jail | Macon | 668 Oglethorpe St, Macon, GA 31201 | Georgia | Jail | 478-621-5555 | Click Here |
| Bleckley County Jail | Cochran | 345 GA-87 BUS, Cochran, GA 31014 | Georgia | Jail | 478-934-4545 | Click Here |
| Irwin County Jail | Ocilla | 400 S Irwin, Ocilla, GA 31774 | Georgia | Jail | 229-468-7459 | Click Here |
| Doraville City Jail | Doraville | 3750 Park Ave, Doraville, GA 30340 | Georgia | Jail | 770-455-1000 | Click Here |
| Ware County Jail | Waycross | 3487 Harris Rd, Waycross, GA 31503 | Georgia | Jail | 912-287-4323 | Click Here |
| Washington County Jail | Sandersville | 1735 Kaolin Rd, Sandersville, Georgia 31082 | Georgia | Jail | 478-552-4795 | Click Here |
| Long County Jail | Ludowici | 6 E Academy St, Ludowici, GA 31316 | Georgia | Jail | 912-545-2118 | Click Here |
| Lumpkin County Jail | Dahlonega | 385 E Main St, Dahlonega, GA 30533 | Georgia | Jail | 706-864-0414 | Click Here |
| Macon County Jail | Oglethorpe | 117 Crescent Street, Oglethorpe, GA 31068 | Georgia | Jail | 478-472-6447 | Click Here |
| Madison County Jail | Danielsville | 1436 GA-98, Danielsville, GA 30633 | Georgia | Jail | 706-795-6211 | Click Here |
| Effingham County Jail | Springfield | 130 W First Street Extension, Springfield , GA 31329 | Georgia | Jail | 912-754-3449 | Click Here |
| Elbert County Jail | Elberton | 26 W Church St, Elberton, GA 30635 | Georgia | Jail | 706-283-2040 | Click Here |
| Evans County Jail | Claxton | 123 W Main St, Claxton, GA 30417 | Georgia | Jail | 912-739-1611 | Click Here |
| Clayton County Jail | Jonesboro | 9157 Tara Blvd, Jonesboro, GA 30236 | Georgia | Jail | 770-477-4413 | Click Here |
| Clinch County Jail | Homerville | 115 Court Sq, Homerville, GA 31634 | Georgia | Jail | 912-487-5316 | Click Here |
| Coffee County Jail | Douglas | 825 Thompson Dr, Douglas, GA 31535 | Georgia | Jail | 912-383-6398 | Click Here |
| Hart County Jail | Hartwell | 890 Vickery St., Hartwell, GA 30643 | Georgia | Jail | 706-376-3114 | Click Here |
| Heard County Jail | Franklin | 11820 GA-100, Franklin, GA 30217 | Georgia | Jail | 706-675-3329 | Click Here |
| Henry County Jail | McDonough | 120 Henry Pkwy, McDonough, GA 30253 | Georgia | Jail | 770-954-2200 | Click Here |
| Bryan County Jail | Pembroke | 95 Sgt. Robert W. Crapse Drive, Pembroke, Georgia 31321 | Georgia | Jail | 912-653-3800 | Click Here |
| Bulloch County Jail | Statesboro | 17257 US-301, Statesboro, GA 30458 | Georgia | Jail | 912-764-8888 | Click Here |
| Burke County Jail | Waynesboro | 225 GA-24, Waynesboro, GA 30830 | Georgia | Jail | 706-554-2133 | Click Here |
| Rockdale County Jail | Conyers | 2385 Sigman Industrial Court, Conyers, Georgia 30012 | Georgia | Jail | 770 278 8200 | Click Here |
| Stephens County Jail | Toccoa | 70 N Alexander St, Toccoa, GA 30577 | Georgia | Jail | 706-886-0591 | Click Here |
| Stewart County Jail | Lumpkin | 1980 Broad St, Lumpkin, GA 31815 | Georgia | Jail | 229-838-4311 | Click Here |
| Montgomery County Jail | Mt Vernon | 208 Broad St, Mt Vernon, GA 30445 | Georgia | Jail | 912-583-2321 | Click Here |
| Troup County Jail | LaGrange | 130 Sam Walker Dr, LaGrange, GA 30241 | Georgia | Jail | 706-883-1729 | Click Here |
| Union County Jail | Blairsville | 378 Beasley St, Blairsville, GA 30512 | Georgia | Jail | 706-439-6080 | Click Here |
| Upson County Jail | Thomaston | 235 Aviation Dr, Thomaston, GA 30286 | Georgia | Jail | 706-647-7411 | Click Here |
| Walker County Jail | LaFayette | 105 S Duke St, LaFayette, GA 30728 | Georgia | Jail | 706-638-1909 | Click Here |
| Franklin County Jail | Carnesville | 1 James Little St, Carnesville, GA 30521 | Georgia | Jail | 706-384-2525 | Click Here |
| Fulton County Jail | Atlanta | 185 Central Ave S.W, Atlanta, GA 30303 | Georgia | Jail | 404-612-5100 | Click Here |
| Dade County Jail | Trenton | 75 Case Ave, Trenton, GA 30752 | Georgia | Jail | 706-657-3233 | Click Here |
| Decatur County Jail | Bainbridge | 912 Spring Creek Rd, Bainbridge, GA 39817 | Georgia | Jail | 229-248-3050 | Click Here |
| Glascock County Jail | Gibson | 74 E Main St, Gibson, GA 30810 | Georgia | Jail | 706-598-2881 | Click Here |
| Gordon County Jail | Calhoun | 2700 US-41, Calhoun, GA 30701 | Georgia | Jail | 706-629-1246 | Click Here |
| McDuffie County Jail | Thomson | 751 Public Safety Drive, Thomson, GA 30824 | Georgia | Jail | 706-595-2040 | Click Here |
| Butts County Jail | Jackson | 835 Ernest Biles Dr, Jackson, GA 30233 | Georgia | Jail | 770-775-8216 | Click Here |
| Calhoun County Jail | Morgan | 28959 N Bermuda St, Morgan, GA 39866 | Georgia | Jail | 229-849-2480 | Click Here |
| Candler County Jail | Metter | 1015 E Hiawatha St, Metter, GA 30439 | Georgia | Jail | 912-685-2291 | Click Here |
| Catoosa County Jail | Ringgold | 5842 US-41, Ringgold, GA 30736 | Georgia | Jail | 706-935-2424 | Click Here |
| Jackson County Jail | Jefferson | 555 Stan Evans Dr, Jefferson, GA 30549 | Georgia | Jail | 706-367-8718 | Click Here |
| Jasper County Jail | Monticello | 1551 GA-212, Monticello, GA 31064 | Georgia | Jail | 706-468-4912 | Click Here |
| Wheeler County Jail | ALAMO | 100 LAKEVIEW DRIVE, ALAMO, GA,30411 | Georgia | Jail | 912-567-7127 | Click Here |
| Wilcox County Jail | Abbeville | 126 E Main St, Abbeville, GA 31001 | Georgia | Jail | 229-467-2322 | Click Here |
| Wilkes County Jail | Washington | 225 Andrew Dr, Washington, GA 30673 | Georgia | Jail | 706-678-2224 | Click Here |
| Wilkinson County Jail | Irwinton | 108 Bacon St, Irwinton, GA 31042 | Georgia | Jail | 478-946-2411 | Click Here |
| Worth County Jail | Sylvester | 201 N Main St #14, Sylvester, GA 31791 | Georgia | Jail | 229-776-8211 | Click Here |
| Atkinson County Jail | Pearson | 20 E Smith Ave, Pearson, GA 31642 | Georgia | Jail | 912-422-3611 | Click Here |
| Lee County Jail | Leesburg | 119 Pinewood Rd, Leesburg, GA 31763 | Georgia | Jail | 229-759-3334 | Click Here |
| Putnam County Jail | Eatonton | 111 Ridley Dr, Eatonton, GA 31024 | Georgia | Jail | 706-485-8557 | Click Here |
| Schley County Jail | Ellaville | 8 Pecan St, Ellaville, GA 31806 | Georgia | Jail | 229-937-2101 | Click Here |
| DeKalb County Jail | Decatur | 4425 Memorial Dr, Decatur, GA 30032 | Georgia | Jail | 404-298-8145 | Click Here |
| Jefferson County Jail | Louisville | 911 Clarks Mill Road, Louisville, GA 30434 | Georgia | Jail | 478-625-7077 | Click Here |
| | | | | | | |
Unable to Locate an Inmate in Georgia
When you need information on an inmate, but have nowhere to start beyond a state and a name, then InmatesPlus can help. When you are unable to locate an inmate in Georgia, yet know the general area that they are located in, InmatesPlus offers links to every facility that is available in the state of Georgia. These links can provide specific information about a facility and an inmate as long as you have an inmate ID or a full legal name. If this is not the type of information you need then other options exist.
VINELink is a separate third party site that can help if you are unable to locate an inmate in Georgia. VINELink requires registration for use, but stands by that information remaining confidential. Initially, VINELink was started for victims of crim, known as the Victim Information and Notification Everyday site. Designed to help victims find peace of mind following a crime, this site is update once every 24 hours. Though the site was designed as a site for victims, it is open to all users. All you need is an inmate name or number and preferably a state, but this is not completely necessary. The site then provides all the public information available on that particular inmate. This may include a mug shot, the date of sentencing, sentence length, charges, and more. It takes very little information to locate an inmate, why not gain the peace of mind you want with the information you richly deserve.
Looking up DOC information can be time consuming and at times, overwhelming. InmatesPlus has made finding DOC information much easier by compiling a list of every available facility in Georgia and adding links to the facility sites. While the individual facility sites can provide a great deal of specific DOC information for that facility, there is still general information that you may need. This general DOC information is available across several pages on InmatesPlus. Information such as how to write a letter to an inmate and what information must be included on the envelope along with general guidelines to what can be included or sent are available.
Further information about other areas, such as alternate ways to communicate like a prison e-mail system or by putting money on the inmate's books for phone cards can also be found. Additional information on putting money on an inmate's books is available and basic items that they may buy with that money. While money is not an equivalent of actual communication, it is helpful for those serving time as this is a way to get extra food, snacks, and hygiene items that may be needed during their incarceration.
Specific to keeping touch with inmates, it is highly important. Studies have shown that those inmates who have a connection or connections to the outside world are more likely to be rehabilitated because they have something to look forward to upon release. Even those serving lengthy or lifetime sentences can benefit from contact. This can improve their overall mental health long term.