Search by Name
New York Inmate Search
State Prison Search
NY DOC Information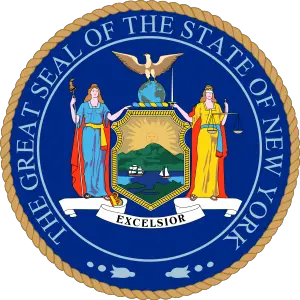 Authority: New York State Department of Corrections and Community Supervision
Website: http://www.doccs.ny.gov/
Address: 1220 Washington Ave #9, Albany, NY 12226
Phone: (518) 457-8126
List of Jails and Prisons in New York
| Name | City | Address | State | Type | Phone Number | Locator Link |
| --- | --- | --- | --- | --- | --- | --- |
| Federal Correctional Institution, Otisville | Otisville | 2 Mile Dr, Otisville, NY 10963 | New York | Federal | 845-386-6700 | Click Here |
| Federal Correctional Institution, Ray Brook | Ray Brook | 128 Ray Brook Rd, Ray Brook, NY 12977, USA | New York | Federal | 518-897-4000 | Click Here |
| Metropolitan Correctional Center, New York | New York | 150 Park Row, New York, NY 10007, USA | New York | Administrative | 646-836-6300 | Click Here |
| Metropolitan Detention Center, Brooklyn | Brooklyn | 80 29th St, Brooklyn, NY 11232, USA | New York | Administrative | 718-840-4200 | Click Here |
| Adirondack Adolescent Offender Facility | Ray Brook | 196 Ray Brook Rd, Ray Brook, NY 12977 | New York | Prison | 518-891-1343 | Click Here |
| Albion Correctional Facility | Albion | 3595 State School Rd, Albion, NY 14411 | New York | Prison | 585-589-5511 | Click Here |
| Altona Correctional Facility | Altona | 555 Devils Den Road, Altona, NY 12910-3000 | New York | Prison | 518-236-7841 | Click Here |
| Attica Correctional Facility | Attica | 639 Exchange St, Attica, NY 14011 | New York | Prison | 585-591-2000 | Click Here |
| Auburn Correctional Facility | Auburn | 135 State St, Auburn, NY 13024 | New York | Prison | 315-253-8401 | Click Here |
| Bare Hill Correctional Facility | Malone | 181 Brand Rd, Malone, NY 12953 | New York | Prison | 518-483-8411 | Click Here |
| Bedford Hills Correctional Facility | Bedford Hills | 247 Harris Rd, Bedford Hills, NY 10507 | New York | Prison | 914-241-3100 | Click Here |
| Cape Vincent Correctional Facility | Cape Vincent | 36560 NY-12E, Cape Vincent, NY 13618 | New York | Prison | 315-654-4100 | Click Here |
| Cayuga Correctional Facility | Moravia | 2202 NY-38A, Moravia, NY 13118 | New York | Prison | 315-497-1110 | Click Here |
| Clinton Correctional Facility | Dannemora | 1156 Cook St, Dannemora, NY 12929 | New York | Prison | 518-492-2511 | Click Here |
| Collins Correctional Facility | Collins | Middle Rd, Collins, NY 14034 | New York | Prison | 716-532-4588 | Click Here |
| Coxsackie Correctional Facility | Coxsackie | 11260 Rte 9W, Coxsackie, NY 12051 | New York | Prison | 518-731-2781 | Click Here |
| Downstate Correctional Facility | Fishkill | 121 Red Schoolhouse Rd, Fishkill, NY 12524 | New York | Prison | 845-831-6600 | Click Here |
| Eastern NY Correctional Facility | Napanoch | 30 Institution Rd, Napanoch, New York 12458-0338 | New York | Prison | 845-647-7400 | Click Here |
| Edgecombe Residential Treatment Facility | New York | 611 Edgecombe Avenue,New York, New York 10032-4398 | New York | Prison | 212-923-2575 | Click Here |
| Elmira Correctional Facility | Elmira | 1879 Davis St, Elmira, New York 14901-0500 | New York | Prison | 607-734-3901 | Click Here |
| Fishkill Correctional Facility | Beacon | 18 Strack Drive,Beacon, New York 12508-0307 | New York | Prison | 845-831-4800 | Click Here |
| Five Points Correctional Facility | Romulus | 6600 State Route 96, Romulus, New York 14541 | New York | Prison | 607-869-5111 | Click Here |
| Franklin Correctional Facility | Malone | 62 Bare Hill Road, Malone, New York 12953-0010 | New York | Prison | 518-483-6040 | Click Here |
| Gouverneur Correctional Facility | Gouverneur | 112 Scotch Settlement Road, Gouverneur, New York 13642-0370 | New York | Prison | 315-287-7351 | Click Here |
| Gowanda Correctional Facility | Gowanda | South Road, Gowanda, New York 14070-0350 | New York | Prison | 716-532-0177 | Click Here |
| Great Meadow Correctional Facility | Comstock | 11739 State Route 22, Comstock, New York 12821-0051 | New York | Prison | 518-639-5516 | Click Here |
| Green Haven Correctional Facility | Stormville | 594 Rt. 216, Stormville, New York 12582-0010 | New York | Prison | 845-221-2711 | Click Here |
| Greene Correctional Facility | Coxsackie | 165 Plank Road, Coxsackie, New York 12051-0008 | New York | Prison | 518-731-2741 | Click Here |
| Groveland Correctional Facility | Sonyea | 7000 Sonyea Road, Sonyea, New York 14556-0050 | New York | Prison | 585-658-2871 | Click Here |
| Hale Creek ASACTC | Johnstown | 279 Maloney Road, Johnstown, New York 12095-3769 | New York | Prison | 518-736-2094 | Click Here |
| Hudson Adolescent Offender Facility | Hudson | 50 East Court Street, Hudson, New York 12534-0576 | New York | Prison | 518-828-4311 | Click Here |
| Lakeview Shock Incarceration C. F. | Brocton | 9300 Lake Avenue, Brocton, New York 14716-9798 | New York | Prison | 716-792-7100 | Click Here |
| Lincoln Correctional Facility | New York | 31-33 West 110th Street, New York, New York 10026-4398 | New York | Prison | 212-860-9400 | Click Here |
| Livingston Correctional Facility | Sonyea | 7005 Sonyea Road, Sonyea, New York 14556-0049 | New York | Prison | 585-658-3710 | Click Here |
| Marcy Correctional Facility | Marcy | 9000 Old River Road, Marcy, New York 13403-5000 | New York | Prison | 315-768-1400 | Click Here |
| Mid-State Correctional Facility | Marcy | 9005 Old River Road, Marcy, New York 13403-0216 | New York | Prison | 315-768-8581 | Click Here |
| Mohawk Correctional Facility | Rome | 6514 Rt. 26, Rome, New York 13442 | New York | Prison | 315-339-5232 | Click Here |
| Moriah Shock Incarceration Corr. Fac. | Mineville | 75 Burhart Lane, Mineville, New York 12956-0999 | New York | Prison | 518-942-7561 | Click Here |
| Ogdensburg Correctional Facility | Ogdensburg | One Correction Way, Ogdensburg, New York 13669-2288 | New York | Prison | 315-393-0281 | Click Here |
| Orleans Correctional Facility | Albion | 3531 Gaines Basin Road, Albion, New York 14411-9199 | New York | Prison | 585-589-6820 | Click Here |
| Otisville Correctional Facility | Otisville | 57 Sanitorium Road, Otisville, New York 10963-0008 | New York | Prison | 845-386-1490 | Click Here |
| Queensboro Correctional Facility | Long Island | 47-04 Van Dam Street, Long Island City, NY 11101-3081 | New York | Prison | 718-361-8920 | Click Here |
| Riverview Correctional Facility | Ogdensburg | 1110 Tibbits Drive, Ogdensburg, New York 13669-0158 | New York | Prison | 315-393-8400 | Click Here |
| Rochester Correctional Facility | Rochester | 470 Ford Street, Rochester, New York 14608-2499 | New York | Prison | 585-454-2280 | Click Here |
| Shawangunk Correctional Facility | Wallkill | 200 Quick Road, Wallkill, New York 12589-0750 | New York | Prison | 845-895-2081 | Click Here |
| Sing Sing Correctional Facility | Ossining | 354 Hunter Street, Ossining, New York 10562-5442 | New York | Prison | 914-941-0108 | Click Here |
| Southport Correctional Facility | Pine City | 236 Bob Masia Drive, Pine City, New York 14871-2000 | New York | Prison | 607-737-0850 | Click Here |
| Sullivan Correctional Facility | Fallsburg | 325 Riverside Drive, Fallsburg, New York 12733-0116 | New York | Prison | 845-434-2080 | Click Here |
| Taconic Correctional Facility | Bedford Hills | 250 Harris Road, Bedford Hills, New York 10507-2497 | New York | Prison | 914-241-3010 | Click Here |
| Ulster Correctional Facility | Napanoch | 750 Berme Road, Napanoch, New York 12458-0800 | New York | Prison | 845-647-1670 | Click Here |
| Upstate Correctional Facility | Malone | 309 Bare Hill Road, Malone, New York 12953 | New York | Prison | 518-483-6997 | Click Here |
| Wallkill Correctional Facility | Wallkill | 50 McKendrick Road, Wallkill, New York 12589-0286 | New York | Prison | 845-895-2021 | Click Here |
| Washington Correctional Facility | Comstock | 72 Lock Eleven Lane, Comstock, New York 12821-0180 | New York | Prison | 518-639-4486 | Click Here |
| Watertown Correctional Facility | Watertown | 23147 Swan Roa, Watertown, New York 13601-9340 | New York | Prison | 315-782-7490 | Click Here |
| Wende Correctional Facility | Alden | 3040 Wende Road, Alden, New York 14004-1187 | New York | Prison | 716-937-4000 | Click Here |
| Willard Drug Treatment Campus | Willard | 7116 County Route 132, Willard, New York 14588-0303 | New York | Prison | 607-869-5500 | Click Here |
| Woodbourne Correctional Facility | Woodbourne | 99 Prison Road, Woodbourne, New York 12788-1000 | New York | Prison | 845-434-7730 | Click Here |
| Wyoming Correctional Facility | Attica | 3203 Dunbar Road, Attica, New York 14011-0501 | New York | Prison | 585) 591-1010 | Click Here |
| Anna M. Kross Center | East Elmhurst | 18-18 Hazen Street, East Elmhurst, NY 11370 | New York | NYC Facilitie | 718-546-1500 | Click Here |
| Bellevue Hospital Prison Ward | New York | 462 1st Avenue, New York, NY 10016 | New York | NYC Facilitie | 212-562-1000 | Click Here |
| Brooklyn Detention Complex | Brooklyn | 275 Atlantic Avenue, Brooklyn, NY 11201 | New York | NYC Facilitie | | Click Here |
| Eric M. Taylor Center | East Elmhurst | 10-10 Hazen Street, East Elmhurst, NY 11370 | New York | NYC Facilitie | | Click Here |
| Elmhurst Hospital Prison Ward | Queens | 79-01 Broadway, Queens, NY 11370 | New York | NYC Facilitie | | Click Here |
| George Motchan Detention Center | East Elmhurst | 15-15 Hazen Street, East Elmhurst, NY 11370 | New York | NYC Facilitie | 718-546-4550 | Click Here |
| George R. Vierno Center | East Elmhurst | 09-09 Hazen Street, East Elmhurst, NY 11370 | New York | NYC Facilitie | 718-546-2000 | Click Here |
| James A. Thomas Center (Closed) | | | New York | NYC Facilitie | | Click Here |
| Manhattan Detention Complex | New York | 125 White Street, New York, NY 10013 | New York | NYC Facilitie | 718-546-1500 | Click Here |
| North Infirmary Command | East Elmhurst | 15-00 Hazen Street, East Elmhurst, NY 11370 | New York | NYC Facilitie | | Click Here |
| Otis Bantum Correctional Center | East Elmhurst | 16-00 Hazen Street, East Elmhurst, NY 11370 | New York | NYC Facilitie | 718-546-1500 | Click Here |
| Queens Detention Complex | Kew Gardens | 126-01 82nd Avenue, Kew Gardens, NY 11415 | New York | NYC Facilitie | | Click Here |
| Robert N. Davoren Complex | East Elmhurst | 11-11 Hazen Street, East Elmhurst, NY 11370 | New York | NYC Facilitie | 718-546-1500 | Click Here |
| Rose M. Singer Center | East Elmhurst | 19-19 Hazen Street, East Elmhurst, NY 11370 | New York | NYC Facilitie | 718-546-7450 | Click Here |
| Vernon C. Bain Center | Bronx | 1 Halleck Street, Bronx, NY 10474 | New York | NYC Facilitie | 718-546-1500 | Click Here |
| West Facility | East Elmhurst | 16-06 Hazen Street, East Elmhurst, NY 11370 | New York | NYC Facilitie | | Click Here |
| Oneida County Jail | Oriskany | 6075 Judd Rd, Oriskany, NY 13424 | New York | Jail | 315-768-7804 | Click Here |
| Ontario County Jail | Canandaigua | 3045 County Complex Dr, Canandaigua, NY 14424 | New York | Jail | 585-396-1800 | Click Here |
| Chautauqua County Jail | Mayville | 15 E Chautauqua St, Mayville, NY 14757 | New York | Jail | 716-753-4935 | Click Here |
| Chemung County Jail | Elmira | 211 William St, Elmira, NY 14901 | New York | Jail | 607-737-2934 | Click Here |
| Chenango County Jail | Norwich | 279 County Rd 46, Norwich, NY 13815 | New York | Jail | 607-334-2000 | Click Here |
| Sullivan County Jail | Monticello | 4 Bushnell Ave, Monticello, NY 12701 | New York | Jail | 845-794-7102 | Click Here |
| Tioga County Jail | Owego | 103 Corporate Dr, Owego, NY 13827 | New York | Jail | 607-687-8463 | Click Here |
| Tompkins County Jail | Ithaca | 779 Warren Rd, Ithaca, NY 14850 | New York | Jail | 607-257-5316 | Click Here |
| Wayne County Jail | Lyons | 7376 NY-31 #1000, Lyons, NY 14489 | New York | Jail | 315-946-5807 | Click Here |
| Livingston County Jail | Geneseo | 4 Court St, Geneseo, NY 14454 | New York | Jail | 585-243-7180 | Click Here |
| Cortland County Jail | Cortland | 54 Greenbush St, Cortland, NY 13045 | New York | Jail | 607-756-4275 | Click Here |
| Kings County Jail | Brooklyn | 210 Joralemon St, Brooklyn, NY 11201 | New York | Jail | 718-488-3545 | Click Here |
| Steuben County Jail | Bath | 7007 Rumsey Street Extension, Bath, NY 14810 | New York | Jail | 607-622-3906 | Click Here |
| Montgomery County Jail | Fultonville | 200 Clark Dr, Fultonville, NY 12072 | New York | Jail | 518-853-5555 | Click Here |
| Nassau County Jail | East Meadow | 100 Carman Ave, East Meadow, NY 11554 | New York | Jail | 516-572-4200 | Click Here |
| Genesee County Jail | Batavia | 14 W Main St, Batavia, NY 14021 | New York | Jail | 585-343-0838 | Click Here |
| Cattaraugus County Jail | Little Valley | 301 Court St, Little Valley, NY 14755 | New York | Jail | 716-938-9194 | Click Here |
| Cayuga County Jail | Auburn | 7445 County House Rd, Auburn, NY 13021 | New York | Jail | 315-253-2911 | Click Here |
| Wyoming County Jail | Warsaw | 151 N Main St, Warsaw, NY 14569 | New York | Jail | 585-786-8808 | Click Here |
| Yates County Jail | Penn Yan | 227 Main St, Penn Yan, NY 14527 | New York | Jail | 315-536-5175 | Click Here |
| Allegany County Jail | Belmont | 4884 NY-19, Belmont, NY 14813 | New York | Jail | 585-268-9208 | Click Here |
| Lewis County Jail | Lowville | 5252 Outer Stowe St, Lowville, NY 13367 | New York | Jail | 315-376-5253 | Click Here |
| Rensselaer County Jail | Troy | 4000 Main St, Troy, NY 12180 | New York | Jail | 518-270-5448 | Click Here |
| Schoharie County Jail | Schoharie | 157 Depot Ln, Schoharie, NY 12157 | New York | Jail | 518-295-2264 | Click Here |
| Schuyler County Jail | Watkins Glen | 106 10th St, Watkins Glen, NY 14891 | New York | Jail | 607-535-8222 | Click Here |
| Seneca County Jail | Romulus | 6150 NY-96, Romulus, NY 14541 | New York | Jail | 315-220-3469 | Click Here |
| Niagara County Jail | Lockport | 5526 Niagara Street Ext, Lockport, NY 14095 | New York | Jail | 716-438-3393 | Click Here |
| Dutchess County Jail | Poughkeepsie | 150 N Hamilton St, Poughkeepsie, NY 12601 | New York | Jail | 845-486-3900 | Click Here |
Unable to Locate an Inmate in New York
If you have been unable to locate an inmate in New York then we can help. While you can waste time calling random facilities and hoping someone will answer and provide the information you are looking for, InmatesPlus makes it easier to find an inmate from the comfort of your home computer.
So, if you are unable to locate an inmate in New York start with InmatesPlus. The site allows you to search specific facilities in the state with little more than a legal name. If you have an idea of what facility the person is in or the general area, then this may be the easiest way to gather information. However, if you are still unable to locate an inmate in New York, then VINELink can be helpful. VINELink is a third-party site created for victims of crimes, but free for everyone to use after a simple registration process. VINELink will search for inmates in a given state with only a legal name. Once the inmate is found, information about the facility in which they are located, their convictions, a mug shot, and potential release date is provided.
Any up to date information that is available to the public is given with a few clicks of a button. Searches can be registered to send updates to the phone, text, email, or through TTY services in several languages if a victim or concerned community member so desires. This is great for peace of mind for victims, but also provides friends and family members a facility name so InmatesPlus can teach them how to keep contact through various means. Start your search when you are ready.
New York may be an entertaining destination, but there are times that the judicial system has to place people in jail and truly take the fun out of the state. When the person being arrested or serving time is someone you know or need to keep track of, InmatesPlus can help. DOC information on the facilities in New York are organized for easy use within the site. If you know which facility an inmate is located in and have a name, then simply go to the facility website and enter the name to see the available information.
This is helpful if the goal is to simply make sure an inmate is located where you believe and determine what they were convicted of or awaiting trial for while incarcerated. However, if you want more detailed information about how to contact an inmate or send appropriate items, including adding money to their books, then InmatesPlus can help with further DOC information in those general areas. InmatesPlus offers several pages of information on how to keep in contact with inmates through letters and care packages, where allowed. There are also pages on the importance of keeping contact with inmates as part of the rehabilitation process as it links them to the outside world with something better to look forward to in life. Jail and prison are bleak places and hope can be lost quickly, but a link to the outside world is helpful.
Know how to best help your loved ones that may be incarcerated for a time by access InmatesPlus with a few easy clicks. Help someone who is paying for their crime make the time pass a bit quicker with the DOC information that you need.