Search by Name
Iowa Inmate Search
State Prison Search
IA DOC Information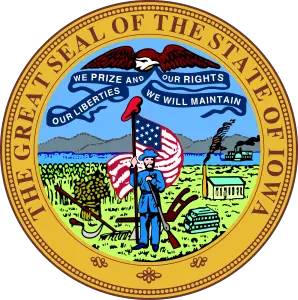 Authority: Iowa Department of Corrections
Website: https://doc.iowa.gov/
Address: 510 E 12th St, Des Moines, IA 50319
Phone: (515) 725-5701
List of Jails and Prisons in Iowa
| Name | City | Address | State | Type | Phone Number | Locator Link |
| --- | --- | --- | --- | --- | --- | --- |
| Anamosa State Penitentiary | Anamosa | 406 N High St, Anamosa, IA 52205 | Iowa | Prison | 319-462-3504 | Click Here |
| Clarinda Correctional Facility | Clarinda | 2000 N 16th St, Clarinda, IA 51632 | Iowa | Prison | 712-542-5634 | Click Here |
| Fort Dodge Correctional Facility | Fort Dodge | 1550 L St, Fort Dodge, IA 50501 | Iowa | Prison | 515-574-4700 | Click Here |
| Iowa Correctional Institution for Women | Mitchellville | 420 Mill St SW, Mitchellville, IA 50169 | Iowa | Prison | 515-725-5042 | Click Here |
| Iowa Medical and Classification Center | Coralville | 2700 Coral Ridge Ave, Coralville, IA 52241 | Iowa | Prison | 319-626-2391 | Click Here |
| Iowa State Penitentiary | Fort Madison | 2111 330th Ave, Fort Madison, IA 52627 | Iowa | Prison | 319-372-5432 | Click Here |
| Mount Pleasant Correctional Facility | Mt Pleasant | 1200 E Washington St, Mt Pleasant, IA 52641 | Iowa | Prison | 319-385-9511 | Click Here |
| Newton Correctional Facility | Newton | 307 S 60th Ave E W, Newton, IA 50208 | Iowa | Prison | 641-792-7552 | Click Here |
| North Central Correctional Facility | Rockwell City | 7464, 313 Lanedale, Rockwell City, IA 50579 | Iowa | Prison | 712-297-7521 | Click Here |
| O'Brien County Jail | Primghar | 240 1st St NE, Primghar, IA 51245 | Iowa | Jail | 712-957-5245 | Click Here |
| Palo Alto County Jail | Emmetsburg | 2001 11th St, Emmetsburg, IA 50536 | Iowa | Jail | 712-852-3535 | Click Here |
| Greene County Jail | Jefferson | 204 S Chestnut Street , Jefferson, IA 50129 | Iowa | Jail | 515-386-2136 | Click Here |
| Grundy County Jail | Grundy Center | 705 8th St, Grundy Center, IA 50638 | Iowa | Jail | 319-824-6933 | Click Here |
| Guthrie County Jail | Grundy Center | 200 N 5th St, Guthrie Center, IA 50115 | Iowa | Jail | 641-747-2214 | Click Here |
| Hamilton County Jail | Webster | 2300 Superior St, Webster City, IA 50595 | Iowa | Jail | 515-832-8629 | Click Here |
| Cerro Gordo County Jail | Mason | 17262 Lark Ave, Mason City, IA 50401 | Iowa | Jail | 641-421-3000 | Click Here |
| Cherokee County Jail | Cherokee | 111 N 5th St, Cherokee, IA 51012 | Iowa | Jail | 712-225-6738 | Click Here |
| Chickasaw County Jail | Hampton | 116 N Chestnut Ave, New Hampton, IA 50659 | Iowa | Jail | 641-394-3121 | Click Here |
| Clarke County Jail | Osceola | 220 Town Line Rd, Osceola, IA 50213 | Iowa | Jail | 641-342-2914 | Click Here |
| Story County Jail | Nevada | 1315 S B Ave, Nevada, IA 50201 | Iowa | Jail | 515-382-7464 | Click Here |
| Tama County Jail | Toledo | 100 N Main St, Toledo, IA 52342 | Iowa | Jail | 641-484-3760 | Click Here |
| Jefferson County Jail | Fairfield | 1200 W Grimes Ave, Fairfield, IA 52556 | Iowa | Jail | 641-472-3967 | Click Here |
| Johnson County Jail | Iowa | 511 S Capitol St, Iowa City, IA 52240 | Iowa | Jail | 319-356-6025 | Click Here |
| Jones County Jail | Anamosa | 500 W Main St #2, Anamosa, IA 52205 | Iowa | Jail | 319-462-4371 | Click Here |
| Black Hawk County Jail | Waterloo | 225 E 6th St, Waterloo, IA 50703 | Iowa | Jail | 319-291-2587 | Click Here |
| Mills County Jail | Glenwood | 23 Vine St, Glenwood, IA 51534 | Iowa | Jail | 712-527-4275 | Click Here |
| Monona County Jail | Onawa | 909 7th St, Onawa, IA 51040 | Iowa | Jail | 712-423-2525 | Click Here |
| Wapello County Jail | Ottumwa | 330 W 2nd St, Ottumwa, IA 52501 | Iowa | Jail | 641-684-4350 | Click Here |
| Mahaska County Jail | Oskaloosa | 214 High Ave E # 1, Oskaloosa, IA 52577 | Iowa | Jail | 641-673-4322 | Click Here |
| Bremer County Jail | Waverly | 111 4th St NE, Waverly, IA 50677 | Iowa | Jail | 319-352-5400 | Click Here |
| Pottawattamie County Jail | Council Bluffs | 1400 Big Lake Rd, Council Bluffs, IA 51501 | Iowa | Jail | 712-890-2200 | Click Here |
| Kossuth County Jail | Algona | 121 W State St, Algona, IA 50511 | Iowa | Jail | 515-295-9277 | Click Here |
| Keokuk County Jail | Sigourney | 204 S Stone St, Sigourney, IA 52591 | Iowa | Jail | 641-622-2727 | Click Here |
| Muscatine County Jail | Muscatine | 400 Walnut St, Muscatine, IA 52761 | Iowa | Jail | 563-262-4190 | Click Here |
| Calhoun County Jail | Anniston | 400 W 8th St, Building II, Anniston, AL 36201 | Iowa | Jail | 256-236-5561 | Click Here |
| Cedar County Jail | Tipton | 711 E. South St., Tipton, IA 52772-1977 | Iowa | Jail | 563-886-2121 | Click Here |
| Ida County Jail | Ida Grove | 401 Moorehead St, Ida Grove, IA 51445 | Iowa | Jail | 712-364-3146 | Click Here |
| Winneshiek County Jail | Decorah | 400 Claiborne Dr # 3, Decorah, IA 52101 | Iowa | Jail | 563-382-4268 | Click Here |
| Woodbury County | Sioux City | 407 7th St, Sioux City, IA 51101 | Iowa | Jail | 712-279-6040 | Click Here |
| Worth County Jail | Northwood | 1000 Central Avenue, Northwood, Iowa 50459 | Iowa | Jail | 641-324-2481 | Click Here |
| Appanoose County Jail | Centerville | 1125 W Van Buren St, Centerville, IA 52544 | Iowa | Jail | 641-437-7100 | Click Here |
| Audubon County Jail | Audubon | 318 Leroy St # 1, Audubon, IA 50025 | Iowa | Jail | 712-563-2631 | Click Here |
| Poweshiek County Jail | Montezuma | 4802 Barnes City Rd, Montezuma, IA 50171 | Iowa | Jail | 641-623-5679 | Click Here |
| Scott County Jail | Davenport | 400 W 4th St, Davenport, IA 52801 | Iowa | Jail | 563-326-8625 | Click Here |
| Delaware County Jail | Manchester | 304 E Delaware St, Manchester, IA 52057 | Iowa | Jail | 563-927-3135 | Click Here |
| Dickinson County Jail | Spirit Lake | 1802 Hill Ave, Spirit Lake, IA 51360 | Iowa | Jail | 712-336-2793 | Click Here |
Unable to Locate an Inmate in Iowa
If you are unable to locate an inmate in Iowa then help is available. If you are unable to locate an inmate in Iowa, but know which facility the person is in, InmatesPlus can help you get information for specific facilities. This can include the address for the facility and the related case information that is available for a specific inmate if you have either a full name or an inmate ID number. This can be important for being able to contact a loved one or stay in contact if the person has been moved. The information that is available for the general public is also available on each individual site. However, some people face a different problem, that of not being able to locate an inmate in Iowa that they need to keep track of because they are a victim or the person could be a problem upon release.
If you need to locate a prisoner in Iowa, but you are not sure where they are located, then try VINELink. VINELink is a free third-party site that offers up to the date information for inmates that is updated each day and is confidential though requires registration. Information about a release date, charges, and any other available information is free to access 24 hours a day, 7 days a week. This is great for keeping track of family members or those who may have caused you to be a victim. The best part is, if you are keeping track of a particular person, you can sign up for notifications via phone, text, or email to be updated with any changes. This offers peace of mind and time to prepare in any way needed.
Iowa has a large number of jails and prisons throughout the state. If you have a friend or family member incarcerated or awaiting trial in one of these facilities, it can be overwhelming to find out what to do, how to keep contact, or even put money on the books for a specific inmate. This is even harder as you learn that each facility has a unique way of doing things with different rules and regulations. This is also where InmatesPlus can be truly helpful. If you are aware of what facility the person you are searching for in is, then the specific DOC information can be found through the provided links. This covers all the available jails and prisons in Iowa. DOC information is not limited to a facility webpage and address, but can allow you to see forms, visitor information, and how to add money to an account or keep in contact with an inmate. This can vary greatly from facility to facility which may be confusing if an inmate is moved.
 It is important to keep contact with those who are incarcerated because it makes the transition when they get out a bit easier. Even receiving mail during the week can be a welcomed break from the monotony and serve as a reminder that life is better on the outside. In addition, for those who may want to keep track of an inmate that is related to a particular victim, DOC information and pages can help you make sure an inmate is still incarcerated.