Search by Name
South Carolina Inmate Search
State Prison Search
SC DOC Information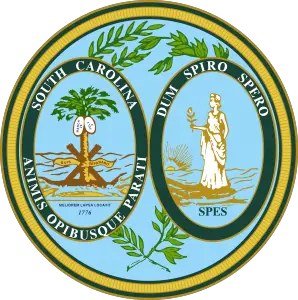 Authority: South Carolina Department of Corrections
Website: www.doc.sc.gov
Address: 4444 Broad River Rd, Columbia, SC 29221
Phone: (803) 896-8531
List of Jails and Prisons in South Carolina
| Name | City | Address | State | Type | Phone Number | Locator Link |
| --- | --- | --- | --- | --- | --- | --- |
| Federal Correctional Institution, Bennettsville | Bennettsville | 696 Muckerman Rd, Bennettsville, SC 29512, USA | South Carolina | Federal | 843-454-8200 | Click Here |
| Federal Correctional Institution, Edgefield | Edgefield | 501 Gary Hill Rd, Edgefield, SC 29824, USA | South Carolina | Federal | 803-637-1500 | Click Here |
| Federal Correctional Institution, Estill | Estill | 100 Prison Rd, Estill, SC 29918, USA | South Carolina | Federal | 803-625-4607 | Click Here |
| Federal Correctional Institution, Williamsburg | Salters | 8301 US-521, Salters, SC 29590, USA | South Carolina | Federal | 843-387-9400 | Click Here |
| Allendale Correctional Institution | Fairfax | 1057 Revolutionary Trail, Fairfax, SC 29827 | South Carolina | Prison | 803-734-0653 | Click Here |
| Broad River Correctional Institution | Columbia | 4460 Broad River Road, Columbia, SC 29210 | South Carolina | Prison | 803-896-2234 | Click Here |
| Catawba Pre-Release Center | Rock Hill | 1030 Milling Road , Rock Hill, SC 29730 | South Carolina | Prison | 803-324-5361 | Click Here |
| Evans Correctional Institution | Bennettsville | 610 SC-9, Bennettsville, SC 29512 | South Carolina | Prison | 843-479-4181 | Click Here |
| Goodman Correctional Institution | Columbia | 4556 Broad River Rd, Columbia, SC 29210 | South Carolina | Prison | 803-896-8565 | Click Here |
| Graham (Camille Griffin) Correctional Institution | Columbia | 4450 Broad River Road, Columbia, SC 29210-4096 | South Carolina | Prison | 803-896-8590 | Click Here |
| Kershaw Correctional Institution | Kershaw | 4848 Gold Mine Hwy, Kershaw, SC 29067 | South Carolina | Prison | 803-475-5770 | Click Here |
| Kirkland Reception and Evaluation Center | Columbia | 4344 Broad River Rd, Columbia, SC 29210 | South Carolina | Prison | 803-896-1521 | Click Here |
| Leath Correctional Institution | Greenwood | 2809 Airport Road, Greenwood, SC 29649 | South Carolina | Prison | 864-229-5709 | Click Here |
| Lee Correctional Institution | Bishopville | 990 Wisacky Hwy, Bishopville, SC 29010 | South Carolina | Prison | 803-428-2800 | Click Here |
| Lieber Correctional Institution | Ridgeville | 136 Wilborn Ave, Ridgeville, SC 29472 | South Carolina | Prison | 843-875-3332 | Click Here |
| Livesay Correctional Institution | Spartanburg | 104 Broadcast Dr, Spartanburg, SC 29303 | South Carolina | Prison | 803-734-1375 | Click Here |
| Lower Savannah Pre-Release Center | Aiken | 361 Wire Rd, Aiken, SC 29801 | South Carolina | Prison | 803-648-8865 | Click Here |
| MacDougall Correctional Institution | Ridgeville | 1516 Old Gilliard Rd, Ridgeville, SC 29472 | South Carolina | Prison | 843-871-0741 | Click Here |
| Manning Correctional Institution | Columbia | 502 Beckman Rd, Columbia, SC 29203 | South Carolina | Prison | 803-935-6000 | Click Here |
| McCormick Correctional Institution | McCormick | 386 Redemption Way, McCormick, SC 29899 | South Carolina | Prison | 864-443-2114 | Click Here |
| Palmer Pre-Release Center | Florence | 2012 Pisgah Rd, Florence, SC 29501 | South Carolina | Prison | 843-661-4770 | Click Here |
| Perry Correctional Institution | Pelzer | 430 Oaklawn Rd, Pelzer, SC 29669 | South Carolina | Prison | 864-243-4700 | Click Here |
| Ridgeland Correctional Institution | Ridgeland | 5 Correctional Rd, Ridgeland, SC 29936 | South Carolina | Prison | 843-726-6888 | Click Here |
| Trenton Correctional Institution | Trenton | 84 State Hwy S-19-29, Trenton, SC 29847 | South Carolina | Prison | 803-275-3301 | Click Here |
| Turbeville Correctional Institution | Turbeville | 1578 Clarence Coker Hwy, Turbeville, SC 29162 | South Carolina | Prison | 843-659-4800 | Click Here |
| Tyger River Correctional Institution | Enoree | 200 Prison Rd, Enoree, SC 29335 | South Carolina | Prison | 803-896-3501 | Click Here |
| Walden Correctional Institution | Columbia | 4344 Broad River Rd, Columbia, SC 29210 | South Carolina | Prison | 803-896-8580 | Click Here |
| Wateree River Correctional Institution | Rembert | 8200 State Farm Rd, Rembert, SC 29128 | South Carolina | Prison | 803-432-6191 | Click Here |
| Oconee County Jail | Walhalla | 415 S. Pine Street, Walhalla, SC 29691 | South Carolina | Jail | 864-638-4199 | Click Here |
| Calhoun County Jail | St Matthews | 2811 Old Belleville Rd, St Matthews, SC 29135 | South Carolina | Jail | 803) 874-2741 | Click Here |
| Newberry County Jail | Newberry | 550 Wilson Rd Newberry, SC 29108 | South Carolina | Jail | 803-321-2141 | Click Here |
| Horry County Jail | Conway | 1301 Second Avenue, Conway, SC 29526 | South Carolina | Jail | 843-915-5450 | Click Here |
Unable to Locate an Inmate in South Carolina
Hearing that a loved one has been arrested or sentenced can bring up emotions that are unexpected and often, overwhelming. You may have a million questions that seem unanswerable. For those that can be answered, InmatesPlus can help. There are basic questions that can be answered and fall under the category of DOC information. This can range from a phone number to a facility to what to include in a letter to an inmate. These questions can be found separately online or asked after at the specific facility, but answers may still be confusing or even unavailable. InmatesPlus can answer questions about DOC information on a single site that is easy to use. If you have the basic information of a facility name and an inmate legal name, almost any needed DOC information can be located.
Even if you just have a state in which the person is located, the facilities are each individually linked through InmatesPlus and can be searched using either an inmate ID number or legal name. This allows you to find a location, address, and facility phone number as well as some basic rules about visiting, writing or adding money to an inmate's books in South Carolina. For specifics, InmatesPlus also offers pages about the importance of writing to someone who is incarcerated and what to expect when visiting someone who is imprisoned. Pages about contacting an inmate or having them contact you and even commissary are also included. Each topic will make incarceration better understood for those left on the outside.
Knowing that someone is in jail or suspecting that someone you know has landed in jail can be scary, worrisome, and traumatic whether you are a friend or a victim. This becomes even more of an issue if you are unable to locate an inmate in South Carolina. There are a number of jails and prisons, so calling each one can be time consuming. You may also come back without the information that is needed because personnel are not always able to be helpful and often, calls go unreturned.
InmatesPlus has made it easier to locate an inmate in South Carolina if you have been unable to do so on your own. The best place to start is with a jail that the person is most likely to be located in by clicking on the link to the specific facility. All you will need is the person's full legal name. If you are unable to locate in South Carolina in this way, then try VINELink. This stands for Victim Information and Notification Everyday link. While this is a contracted third-party service it offers information that is up to date for jails and prisons in the area with little more than a person's legal name. This can be helpful when you are unable to locate an inmate in Michigan. This works to locate friends and family members, but it is also helpful in keeping track of a person's status when you have been a victim of that person. While a registration is required for VINELink, it is a free service that is confidential.