Search by Name
New Hampshire Inmate Search
State Prison Search
NH DOC Information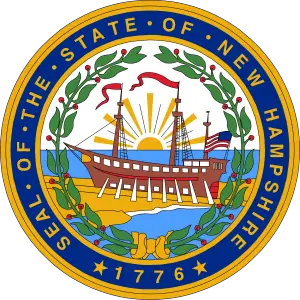 Authority: New Hampshire Department of Corrections
Website: https://www.nh.gov/nhdoc/
Address: 126 Lowell St, Manchester, NH 03104
Phone: (603) 627-4194
List of Jails and Prisons in NH
| Name | City | Address | State | Type | Phone Number | Locator Link |
| --- | --- | --- | --- | --- | --- | --- |
| Federal Correctional Institution, Berlin | Berlin | 1 Success Loop Rd, Berlin, NH 03570, USA | New Hampshire | FCI | 603-342-4000 | Click Here |
| State Prison for Men | Concord | 281 N State St, Concord, NH 03301 | New Hampshire | Prison | 603-271-1801 | Click Here |
| State Prison for Women | Concord | 42 Perimeter Rd, Concord, NH 03301 | New Hampshire | Prison | 603-271-0200 | Click Here |
| Northern New Hampshire Correctional Facility | Berlin | 138 East Milan Rd., Berlin, NH 03570 | New Hampshire | Prison | 603-752-2906 | Click Here |
| Sullivan County Jail | Claremont | 103 County Farm Rd, Claremont, NH 03743 | New Hampshire | Jail | 603-542-8717 | Click Here |
| Belknap County Jail | Laconia | 76 County Dr, Laconia, NH 03246 | New Hampshire | Jail | 603-527-5480 | Click Here |
| Merrimack County Jail | Boscawen | 333 Daniel Webster Hwy , Boscawen, NH 03303 | New Hampshire | Jail | 603-796-6600 | Click Here |
| Coos County Jail | West Stewartstown | 168 County Farm Rd, West Stewartstown, NH 03597 | New Hampshire | Jail | 603-246-3315 | Click Here |
| Hillsborough County Jail | Manchester | 445 Willow St, Manchester, NH 03103 | New Hampshire | Jail | 603-627-5620 | Click Here |
| Rockingham County Jail | Brentwood | 99 North Road, Brentwood, NH 03833 | New Hampshire | Jail | 603-679-2244 | Click Here |
| Grafton County Jail | North Haverhill | 3785 Dartmouth College Hwy, North Haverhill, NH 03774 | New Hampshire | Jail | 603-787-2111 | Click Here |
| Carroll County Jail | Ossipee | 95 Water Village Road, Ossipee, NH 03864 | New Hampshire | Jail | 603-539-2282 | Click Here |
Unable to Locate an Inmate in New Hampshire
For family members who need general information regarding inmates in New Hampshire, InmatesPlus can help. There are articles and ideas on how to stay in touch with your loved one, what helps, and the types of items available through most commissaries. This can also help others to understand the need and importance of contact with those on the outside for inmates. Jail is scary, lonely, and disconcerting for both those in prison and those left behind. InmatesPlus can ease some fears through DOC information. DOC information is a general term that applies to several areas.
For some, this may be something simple such as a phone number and address for a specific facility or a list of jails and prisons in a given area or state, but for others, more specific information is needed. It can be difficult to navigate and locate specific information when under stress about a current or recent conviction of a friend or family member, but InmatesPlus can help. InmatesPlus provides a single place to find the DOC information you need for both specific institutions and general DOC information that can be applied to the majority of institutions and inmates. A list of all the jails and prisons in Indiana is included with links to each facility website if one exists. This allows you to quickly find the page you need and look up inmates, typically with little more than a legal name or inmate number. This can be important for friend, family member, and even victims that want to know where an inmate is located and for how long. Many times, this also lists charges that are pending or have been resolved and a sentence given.
If you are unable to locate an inmate in New Hampshire then help is available. If you are unable to locate an inmate in New Hampshire, but know which facility the person is in, InmatesPlus can help you get information for specific facilities. This can include the address for the facility and the related case information that is available for a specific inmate if you have either a full name or an inmate ID number. This can be important for being able to contact a loved one or stay in contact if the person has been moved. The information that is available for the general public is also available on each individual site. However, some people face a different problem, that of not being able to locate an inmate in New Hampshire that they need to keep track of because they are a victim or the person could be a problem upon release.
If you need to locate a prisoner in New Hampshire, but you are not sure where they are located, then try VINELink. VINELink is a free third-party site that offers up to the date information for inmates that is updated each day and is confidential though requires registration. Information about a release date, charges, and any other available information is free to access 24 hours a day, 7 days a week. This is great for keeping track of family members or those who may have caused you to be a victim. The best part is, if you are keeping track of a particular person, you can sign up for notifications via phone, text, or email to be updated with any changes. This offers peace of mind and time to prepare in any way needed.