Search by Name
Oklahoma Inmate Search
State Prison Search
OK DOC Information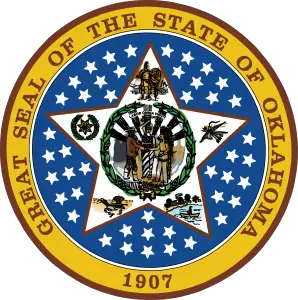 Authority: Oklahoma Department of Corrections
Website: http://doc.ok.gov/
Address: 3400 North Martin Luther King Avenue Oklahoma City, OK 73111
Phone: (405) 425-2500
List of Jails and Prisons in Oklahoma
| Name | City | Address | State | Type | Phone Number | Locator Link |
| --- | --- | --- | --- | --- | --- | --- |
| Federal Correctional Institution, El Reno | El Reno | 4205 OK-66, El Reno, OK 73036, USA | Oklahoma | Federal | 405-262-4875 | Click Here |
| Great Plains Correctional Institution | Hinton | 700 Sugar Creek Rd, Hinton, OK 73047 | Oklahoma | Private | 405-542-3711 | Click Here |
| Federal Transfer Center, Oklahoma City | Oklahoma City | 7410 S MacArthur Blvd, Oklahoma City, OK 73169, USA | Oklahoma | Administrative | 405-682-4075 | Click Here |
| Charles E. "Bill" Johnson Correctional Center | Alva | 1856 E Flynn St, Alva, OK 73717 | Oklahoma | Prison | 580-327-8000 | Click Here |
| Cimarron Correctional Facility | Cushing | 3200 S Kings Hwy, Cushing, OK 74023 | Oklahoma | Prison | 918-225-3336 | Click Here |
| Clara Waters Community Corrections Center | Oklahoma | 9901 N I- 35 Service Rd, Oklahoma City, OK 73131 | Oklahoma | Prison | 405-254-3200 | Click Here |
| Davis Correctional Facility | Holdenville | 6888 E 133 Rd, OK 74848 | Oklahoma | Prison | 405-379-6400 | Not Available |
| Dick Conner Correctional Center | Hominy | 129 Conner Road, Hominy, OK 74035 | Oklahoma | Prison | 918-594-1300 | Click Here |
| Dr. Eddie Warrior Correctional Center | Taft | 400 Oak St, Taft, OK 74463 | Oklahoma | Prison | 918-683-8365 | Click Here |
| Enid Community Corrections | Enid | 2020 E Maine Ave, Enid, OK 73701 | Oklahoma | Prison | 580-977-3800 | Click Here |
| Howard McLeod Correctional Center | Atoka | 19603 E. Whippoorwill Lane, Atoka, OK 74525 | Oklahoma | Prison | 580-889-6651 | Click Here |
| Jackie Brannon Correctional Center | McAlester | 901 N West St, McAlester, OK 74501 | Oklahoma | Prison | 918-421-3399 | Click Here |
| James Crabtree Correctional Center | Helena | 216 N. Murray Street, Helena, OK 73741-1017 | Oklahoma | Prison | 580-852-3221 | Click Here |
| Jess Dunn Correctional Center | Taft | 601 S 124th St W, Taft, OK 74463 | Oklahoma | Prison | 918-682-7841 | Click Here |
| Jim E. Hamilton Correctional Center | Hodgen | 53468 Mineral Spring Rd, Hodgen, OK 74939 | Oklahoma | Prison | 918-653-7831 | Click Here |
| John Lilley Correctional Center | Boley | 407971 Highway 62E, Boley, OK 74829 | Oklahoma | Prison | 918-667-3381 | Click Here |
| Joseph Harp Correctional Center | Lexington | 16161 Moffatt Rd, Lexington, OK 73051 | Oklahoma | Prison | 405-527-5593 | Click Here |
| Kate Barnard Community Corrections Center | Oklahoma City | 3300 N Martin Luther King Ave, Oklahoma City, OK 73111 | Oklahoma | Prison | 405-425-2900 | Click Here |
| Lawton Correctional Facility | Lawton | 605 Southwest Coombs Road, Lawton, OK 73501-8294 | Oklahoma | Prison | 580-248-6703 | Click Here |
| Lexington Assessment & Reception Center | Lexington | 15151 OK-39, Lexington, OK 73051 | Oklahoma | Prison | 405-527-5676 | Click Here |
| Mabel Bassett Correctional Center | McLoud | 29501 Kickapoo Rd, McLoud, OK 74851 | Oklahoma | Prison | 405-964-3020 | Click Here |
| Mack Alford Correctional Center | Atoka | 1151 US-69, Atoka, OK 74525 | Oklahoma | Prison | 580-346-7301 | Click Here |
| North Fork Correctional Facility | Sayre | 1605 E Main St, Sayre, OK 73662 | Oklahoma | Prison | 580-928-8000 | Click Here |
| Northeast Oklahoma Correctional Center | Vinita | 442586 E 250 Rd, Vinita, OK 74301 | Oklahoma | Prison | 918-256-3392 | Click Here |
| Oklahoma City Community Corrections Center | Oklahoma City | 315 W Interstate 44 Service Rd, Oklahoma City, OK 73118 | Oklahoma | Prison | 405-605-2488 | Click Here |
| Oklahoma State Penitentiary | McAlester | 1301 N West St, McAlester, OK 74501 | Oklahoma | Prison | 918-423-4700 | Click Here |
| Oklahoma State Reformatory | Granite | 1700 E 1st St, Granite, OK 73547 | Oklahoma | Prison | 580-480-3700 | Click Here |
| Union City Community Corrections Center | Union City | 700 US-81, Union City, OK 73090 | Oklahoma | Prison | 405-483-5385 | Click Here |
| William Key Correctional Center | Fort Supply | 3946 U.S. Highway 270, Fort Supply, OK 73841-9718 | Oklahoma | Prison | 580-766-2224 | Click Here |
| Okfuskee County Jail | Okemah | 209 N 3rd St, Okemah, OK 74859 | Oklahoma | Jail | 918-623-1122 | Click Here |
| Grant County Jail | Medford | 219 1st St, Medford, OK 73759 | Oklahoma | Jail | 580-395-2356 | Click Here |
| Greer County Jail | Mangum | 105 S Pennsylvania Ave, Mangum, OK 73554 | Oklahoma | Jail | 580-782-3065 | Click Here |
| Cimarron County Jail | Hugo | 305 E Jefferson St, Hugo, OK 74743 | Oklahoma | Jail | 580-326-2130 | Click Here |
| Pawnee County Jail | Pawnee | 500 Harrison St, Pawnee, OK 74058 | Oklahoma | Jail | 918-762-2565 | Click Here |
| Payne County Jail | Stillwater | 606 S Husband St #106, Stillwater, OK 74074 | Oklahoma | Jail | 405-372-4522 | Click Here |
| Texas County Jail | Guymon | 1102 S Ellison St, Guymon, OK 73942 | Oklahoma | Jail | 580-338-3520 | Click Here |
| Tillman County Jail | Frederick | 1200 S Main St, Frederick, OK 73542 | Oklahoma | Jail | 580-335-2427 | Click Here |
| Beckham County Jail | Sayre | 108 S 3rd St, Sayre, OK 73662 | Oklahoma | Jail | 580-928-2121 | Click Here |
| Logan County Jail | Guthrie | 216 S Broad St, Guthrie, OK 73044 | Oklahoma | Jail | 405-282-4100 | Click Here |
| Coal County Jail | Coalgate | 4 S Main St #8, Coalgate, OK 74538 | Oklahoma | Jail | 580-927-2121 | Click Here |
| Cotton County Jail | Walters | 301 N Broadway St, Walters, OK 73572 | Oklahoma | Jail | 580-875-2391 | Click Here |
| Harmon County Jail | Hollis | 105 Jones St, Hollis, OK 73550 | Oklahoma | Jail | 580-688-3306 | Click Here |
| Adair County Jail | Stilwell | 600 Paul Mead Rd, Stilwell, OK 74960 | Oklahoma | Jail | 918-696-2106 | Click Here |
| Murray County Jail | Sulphur | 700 W 10th St, Sulphur, OK 73086 | Oklahoma | Jail | 580-622-5106 | Click Here |
| Custer County Jail | Arapaho | 300 N 7th Ave, Arapaho, OK 73620 | Oklahoma | Jail | 580-323-1616 | Click Here |
| Grady County Jail | Chickasha | 215 N 3rd St, Chickasha, OK 73018 | Oklahoma | Jail | 405-222-1000 | Click Here |
| Major County Jail | Fairview | 500 E Broadway # 4, Fairview, OK 73737 | Oklahoma | Jail | 580-227-4471 | Click Here |
| Marshall County Jail | Madill | 207 N 4th St, Madill, OK 73446 | Oklahoma | Jail | 580-795-2221 | Click Here |
| Mayes County Jail | Pryor | 34 N Adair St, Pryor, OK 74361 | Oklahoma | Jail | 918-825-6500 | Click Here |
| McClain County Jail | Purcell | 121 N 2nd Ave, Purcell, OK 73080 | Oklahoma | Jail | 405-527-2141 | Click Here |
| Canadian County Jail | El Reno | 208 W Rogers St, El Reno, OK 73036 | Oklahoma | Jail | 405-422-3188 | Click Here |
| Carter County Jail | Ardmore | 100 South Washington, Ardmore, OK 74056 | Oklahoma | Jail | 580-223-6014 | Click Here |
| Woodward County Jail | Woodward | 1600 Main St #1, Woodward, OK 73801 | Oklahoma | Jail | 580-256-3261 | Click Here |
| Alfalfa County Jail | Cherokee | 300 S Grand Ave #1, Cherokee, OK 73728 | Oklahoma | Jail | 580-596-3269 | Click Here |
| Leflore County Jail | Poteau | 100 S Broadway St, Poteau, OK 74953 | Oklahoma | Jail | 918-647-5013 | Click Here |
| Lincoln County Jail | Chandler | 811 Manvel Ave #14, Chandler, OK 74834 | Oklahoma | Jail | 405-258-9933 | Click Here |
| Sequoyah County Jail | Sallisaw | 119 S Oak St, Sallisaw, OK 74955 | Oklahoma | Jail | 918-776-0536 | Click Here |
| Noble County Jail | Perry | 721 Cedar St, Perry, OK 73077 | Oklahoma | Jail | 580-336-3517 | Click Here |
Unable to Locate an Inmate in Oklahoma
InmatesPlus.com offers a single place to look up the DOC information you need when you want to find a specific inmate or suspect someone you know and love has been incarcerated. DOC information can vary from location to location, so being able to find the links and answers you need on a single site makes the job of searching for someone much easier. The most basic of DOC information includes things like a facility name, address, and phone number. At times, information on how to schedule a visit or put money into an inmate account may also be available, especially for larger or long term prisoners. However, general DOC information about the workings of the prison system, why contact with inmates is important, and what to expect from a visit is rarely included. InmatesPlus offers a blog to help fill in the informational gaps in a single site. If you need DOC information, InmatesPlus is the place to start.
If you know which facility a loved one is in, then click on the facility link, enter a legal name or inmate number and basic information will appear. This typically includes a mug shot, a list of charges, and possibly the sentence. Some facilities will also include an inmate ID number that will be required on all communication that you or the inmate sends. DOC information is necessary when you have a loved on that is incarcerated. Do what you can to save time and gather all the information at once.
There are times when you know someone is or has been incarcerated, but you are unable to locate an inmate in Oklahoma. When this happens, InmatesPlus can help. InmatesPlus has created a one stop site that includes links to every jail and prison in Oklahoma. This means if you have been unable to locate an inmate in Oklahoma at the facility in which you thought they were placed, you can easily check others. This only requires a legal name or an inmate ID number in order to look someone up. However, there are some instances, when time is of the essence, that searching multiple sits is not possible.
InmatesPlus offers another option. VINELink is a third party site that was created for use by victims of crime, but is free for all to use following a short and simple registration process. Once you have registered for VINELink, you can search a specific state or states using an inmate's legal name. The public information on the inmate is then available for you to read. This may include sentence length and potential release date. This information can be used to keep in touch with an inmate or to keep track of someone who has caused you harm. If needed, updated information can be sent via text, email, phone call, or through TTY services when available. This can provide the peace of mind former victims need when an inmate is close to a release date or the facility changes. The information you need, even if at first you are unable to locate an inmate in Oklahoma, is available with just a few clicks of a button.