Search by Name
Vermont Inmate Search
State Prison Search
VT DOC Information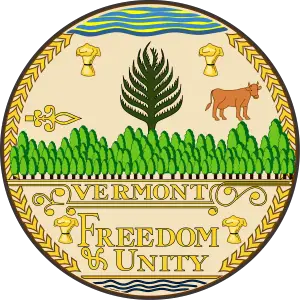 Authority: Vermont Department of Corrections
Website: https://doc.vermont.gov
Address: 426 Industrial Ave, Williston, VT 05495
Phone: (802) 951-5003
List of Jails and Prisons in Vermont
| Name | City | Address | State | Type | Phone Number | Locator Link |
| --- | --- | --- | --- | --- | --- | --- |
| Chittenden Regional Correctional Facility, South Burlington | South Burlington | 7 Farrell St, South Burlington, VT 05403 | Vermont | Prison | 802-863-7356 | Click Here |
| Marble Valley Regional Correctional Facility, Rutland | Rutland | 167 State Street, Rutland, VT 05701 | Vermont | Prison | 802-786-5830 | Click Here |
| Northern State Correctional Facility, Newport | Newport | 2559 Glen Rd, Newport, VT 05855 | Vermont | Prison | 802-334-3364 | Click Here |
| Northeast Correctional Complex, St. Johnsbury | Johnsbury | 1270 US-5, St Johnsbury, VT 05819 | Vermont | Prison | 802-748-8151 | Click Here |
| Northwest State Correctional Facility, Swanton | Swanton | 3649 Lower Newton Rd, Swanton, VT 05488 | Vermont | Prison | 802-524-6771 | Click Here |
| Southeast State Correctional Facility, Windsor | Windsor | 546 State Farm Rd, Windsor, VT 05089 | Vermont | Prison | 802-674-6717 | Click Here |
| Southern State Correctional Facility, Springfield | Springfield | 700 Charlestown Rd, Springfield, VT 05156 | Vermont | Prison | 802-885-9800 | Click Here |
| Grand Isle County Jail | Grand Isle | 10 Island Cir, Grand Isle, VT 05458 | Vermont | Jail | 802-372-4482 | Click Here |
| Bennington County Jail | Bennington | 811 US-7, Bennington, VT 05201 | Vermont | Jail | 802-442-4900 | Click Here |
| Washington County Jail | Montpelier | 10 Elm St, Montpelier, VT 05602 | Vermont | Jail | 802-223-3001 | Click Here |
| Essex County Jail | Guildhall | 91 Courthouse Dr, Guildhall, VT 05905 | Vermont | Jail | 802-676-3500 | Click Here |
| Caledonia County Jail | Johnsbury | 1126 Main Street Suite 2 St. Johnsbury, VT 05819 | Vermont | Jail | 802-748-6666 | Click Here |
| Windham County Jail | Newfane | 11 Jail St, Newfane, VT 05345 | Vermont | Jail | 802-365-4949 | Click Here |
| Windsor County Jail | Woodstock | 62 Pleasant St, Woodstock, VT 05091 | Vermont | Jail | 802-457-5211 | Click Here |
| Addison County Jail | Middlebury | 35 Court St, Middlebury, VT 05753 | Vermont | Jail | 802-388-2981 | Click Here |
| Lamoille County Jail | Hyde Park | 162 Commonwealth Ave, Hyde Park, VT 05655 | Vermont | Jail | 802-888-3502 | Click Here |
Unable to Locate an Inmate in Vermont
The frustration of being unable to locate an inmate in Vermont can be enough to make someone want to give up, but if your friend or family member has been incarcerated, giving up is not an option. Perhaps you are a victim and want to keep track of an inmate to help yourself feel safe. Regardless of the reason, if you are unable to locate an inmate in Vermont, InmatesPlus can help.
 If you know the facility that the person was sent to, then all you need is a legal name or an inmate ID number to find out the basic information that is available and a mugshot. This is accomplished by going to the institutions website and doing an inmate search. All the links to prisons and jails in Vermont are available on InmatesPlus.
If you are not sure which jail or prison someone is in or have been unable to locate an inmate in Vermont in any other way, then VINELink may be helpful. VINELink is also linked on InmatesPlus and serves as a third party site for inmate information. A simple registration is required, but all information remains confidential. The site is free to use and once an inmate is located, updates can be sent through text, phone, or email as they arrive. VINELink is updated daily for the most recent information available. There is no need to stay in the dark, find who you are looking for to start the healing or to find peace of mind knowing where your loved one will be so you can keep contact.
Knowing or worrying that a friend or loved one has been put into jail or prison can send you through a range of emotions. As the emotions build, it is likely that you will want some basic DOC information so you know how to move forward. If someone has just been arrested, then DOC information may include a list of charges and a bond amount, but if someone has been placed under sentencing and moved to prison, then DOC information may be more related to how to add money to their account, schedule visits, and keep contact. InmatesPlus can help with all of this information. First, you need certain information to be able to get addresses and send appropriate items. This starts with the state and facility in which the inmate is housed. This information can usually be found through a name search on a given facility site or this may be information you already know. The next step is knowing of finding the DOC information that is pertinent to your family member or friend. DOC information includes things like an inmate number, how to send items, and what type of items can be sent to a given facility. This information is important, as some items, like cash or hardcover books are not allowed in some facilities, but are appropriate for others. If you know and follow the rules, your friend or loved one will receive their letters, money on the books, or special items much faster.
The most important thing to include, other than allowable items, is the inmate ID number for the inmate. When an inmate is booked into a facility, each is given specific DOC information that includes a mugshot, a list of charges, and an ID number. This number is needed for all items sent to and from the jail. This serves as a type of tracking and identification system.