Search by Name
Nevada Inmate Search
State Prison Search
NV DOC Information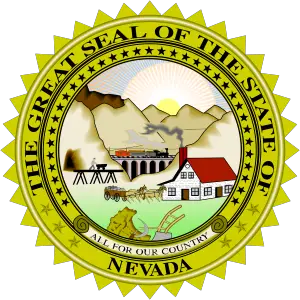 Authority: Nevada Department of Corrections
Website: http://doc.nv.gov/
Address: 5500 Snyder Ave, Carson City, NV 89701
Phone: (775) 887-3285
List of Jails and Prisons in Nevada
| Name | City | Address | State | Type | Phone Number | Locator Link |
| --- | --- | --- | --- | --- | --- | --- |
| Ely State Prison | Ely | 4569 North State Rt, Ely, NV 89301 | Nevada | Prison | 775-289-8800 | Click Here |
| Florence McClure Women's Correctional Center | Las Vegas | 4370 Smiley Rd, Las Vegas, NV 89115 | Nevada | Prison | 702-668-7200 | Click Here |
| High Desert State Prison | Indian Springs | 22010 Cold Creek Rd, Indian Springs, NV 89070 | Nevada | Prison | 702-879-6789 | Click Here |
| Lovelock Correctional Center | Lovelock | 1200 Prison Rd, Lovelock, NV 89419 | Nevada | Prison | 775-273-1300 | Click Here |
| Northern Nevada Correctional Center | Carson City | 1721 Snyder Ave, Carson City, NV 89701 | Nevada | Prison | 775-887-9297 | Click Here |
| Southern Desert Correctional Center | Indian Springs | 20825 Cold Creek Rd, Indian Springs, NV 89070 | Nevada | Prison | 702-879-5472 | Click Here |
| Warm Springs Correctional Center | Carson City | 3301 E 5th St, Carson City, NV 89701 | Nevada | Prison | 775-684-3000 | Click Here |
| Nye County Jail | Tonopah | 101 Radar Rd, Tonopah, NV 89049 | Nevada | Jail | 775-751-7000 | Click Here |
| Lyon County Jail | Yerington | 911 Harvey Ln, Yerington, NV 89447 | Nevada | Jail | 775-463-6600 | Click Here |
| Elko County Jail | Elko | 775 W Silver St, Elko, NV 89801 | Nevada | Jail | 775-777-2530 | Click Here |
| Eureka County Jail | Eureka | 411 N Main St, Eureka, NV 89316 | Nevada | Jail | 775-237-5701 | Click Here |
| Lincoln County Jail | Pioche | 225 Justice Way, Pioche, NV 89043 | Nevada | Jail | 775-962-5151 | Click Here |
| Douglas County Jail | Minden | 1038 Buckeye Rd, Minden, NV 89423 | Nevada | Jail | 775-782-9921 | Click Here |
Unable to Locate an Inmate in Nevada
On the chance that you are unable to locate an inmate in Nevada, but you do know the state and a legal name for the person, InmatesPlus can also help. The important part is knowing a name that the person has been charged under. InmatesPlus can then help you check the various potential facilities to find the person or help out with a third-party site called VINELink. If you are unable to locate an inmate in Nevada, VINELink can provide the answers you need and deserve.
Through a simple registration process, you can access this free site that was created for victims of crime to gain the peace of mind that is often necessary. This can provide victims with a way to track an individual and know what is happening with a case, the sentence being served, and potential release dates. This also offers a mug shot and information that may be necessary to help someone feel safer and start to move on with their lives. VINE can also be helpful to those who have lost track of an incarcerated friend or family member as the information provided between can be used to contact that inmate.
If you are unsure of how to create a letter or send a package to an inmate, use the provided information and then use InmatesPlus for answers and ideas. Jail or prison is hard on those serving and those left at home, but the whole situation can be made a bit easier when the right information is made available. Take advantage of this one stop website to track or contact the inmates that matter most in your life.
Incarceration for a friend or loved one is never easier, but it can be made a bit easier for those on the outside with the right DOC information. DOC information ranges in what it includes. It could refer to something as simple as the address of a prison or jail facility, but could also include the basics of the facility as far as rules and regulations. Some department of correction sites are full of information, but others are severely lacking and leave people wondering what needs to be done to make a prison stay or jail time a bit easier on inmates. For some, DOC information is important to be able to track an inmate for safety purposes.
No matter why you need DOC information, InmatesPlus can help. InmatesPlus has combined all the basic information for the jails and prisons in Idaho and some other relevant information about staying in contact with inmates or keeping track of them as needed. InmatesPlus further offers information about what types of things to write to an inmate or what items can make the time inside easier to get through. While prison or jail is a punishment, it is one best served by looking forward to getting out, contact with the outside world can make that easier overall. No matter what DOC information you need, InmatesPlus can help by providing the actual information or links to a way to discover the information easily. Get started today with little more than a state of incarceration and a full name.