Search by Name
Michigan Inmate Search
State Prison Search
MI DOC Information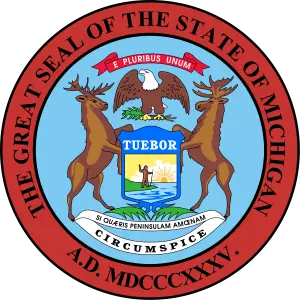 List of Jails and Prisons in Michigan
| Name | City | Address | State | Type | Phone Number | Locator Link |
| --- | --- | --- | --- | --- | --- | --- |
| Federal Correctional Institution, Milan | Milan | 4004 Arkona Rd, Milan, MI 48160, USA | Michigan | FCI | 734-439-1511 | Click Here |
| Alger Correctional Facility | Munising | N6141 Industrial Park Dr, Munising, MI 49862 | Michigan | Prison | 906-387-5000 | Click Here |
| Baraga Correctional Facility | Baraga | 13924 Wadaga Rd, Baraga, MI 49908 | Michigan | Prison | 906-353-7070 | Click Here |
| Bellamy Creek Correctional Facility | Ionia | 1727 Bluewater Hwy, Ionia, MI 48846 | Michigan | Prison | 616-527-2510 | Click Here |
| Boyer Road Correctional Facility | Carson | 10274 Boyer Road, Carson City, MI 48811 | Michigan | Prison | 989-584-3941 | Click Here |
| Carson City Correctional Facility | Carson | 10274 Boyer Road, Carson City, MI 48811 | Michigan | Prison | 989-584-3941 | Click Here |
| Central Michigan Correctional Facility | Louis | 320 Hubbard St, St. Louis, MI 48880 | Michigan | Prison | 989-681-6668 | Click Here |
| Charles Egeler Reception & Guidance Center | Jackson | 3855 Cooper St, Jackson, MI 49201 | Michigan | Prison | 517-780-5600 | Click Here |
| Chippewa Correctional Facility | Kincheloe | 4269 M-80, Kincheloe, MI 49784 | Michigan | Prison | 906-495-2275 | Click Here |
| Cooper Street Correctional Facility | Jackson | 3100 Cooper St, Jackson, MI 49201 | Michigan | Prison | 517-780-6175 | Click Here |
| Detroit Detention Center | Detroit | 17601 Mound Rd, Detroit, MI 48212 | Michigan | Prison | 313-368-8300 | Click Here |
| Detroit Reentry Center | Detroit | 17600 Ryan Rd, Detroit, MI 48212 | Michigan | Prison | 313-368-3200 | Click Here |
| Earnest C. Brooks Correctional Facility | Muskegon | 2500 Sheridan Dr, Muskegon, MI 49444 | Michigan | Prison | 231-773-9200 | Click Here |
| G. Robert Cotton Correctional Facility | Jackson | 3500 N Elm Ave, Jackson, MI 49201 | Michigan | Prison | 517-780-5000 | Click Here |
| Gus Harrison Correctional Facility | Adrian | 2727 E Beecher St, Adrian, MI 49221 | Michigan | Prison | 517-265-3900 | Click Here |
| Ionia Correctional Facility | Ionia | 1576 Bluewater Hwy, Ionia, MI 48846 | Michigan | Prison | 616-527-6331 | Click Here |
| Kinross Correctional Facility | Kincheloe | 4533 W. Industrial Park Drive , Kincheloe, MI 49788 | Michigan | Prison | 906-495-2282 | Click Here |
| Lakeland Correctional Facility | Coldwater | 141 1st St, Coldwater, MI 49036 | Michigan | Prison | 517-278-6942 | Click Here |
| Macomb Correctional Facility | Lenox | 34625 26 Mile Rd, Lenox, MI 48048 | Michigan | Prison | 586-749-4900 | Click Here |
| Marquette Branch Prison | Marquette | 1960 US-41, Marquette, MI 49855 | Michigan | Prison | 906-226-6531 | Click Here |
| Michigan Reformatory | Ionia | 1342 W Main St, Ionia, MI 48846 | Michigan | Prison | 616-527-2500 | Click Here |
| Muskegon Correctional Facility | Muskegon | 2400 S Sheridan Dr, Muskegon, MI 49442 | Michigan | Prison | 231-773-3201 | Click Here |
| Newberry Correctional Facility | Newberry | 13747 E. County Road 428, Newberry, MI 49868 | Michigan | Prison | 906-293-6200 | Click Here |
| Oaks Correctional Facility | Manistee | 1500 Caberfae Hwy, Manistee, MI 49660 | Michigan | Prison | 231-723-8272 | Click Here |
| Ojibway Correctional Facility | Marenisco | N 5705 Ojibway Road, Marenisco, MI 49947 | Michigan | Prison | 906-787-2217 | Click Here |
| Parnall Correctional Facility | Jackson | 1780 E Parnall Rd, Jackson, MI 49201 | Michigan | Prison | 517-780-6004 | Click Here |
| Pugsley Correctional Facility | Kingsley | 7401 Walton Rd, Kingsley, MI 49649 | Michigan | Prison | 231-263-5253 | Click Here |
| Richard A. Handlon Correctional Facility | Ionia | 1728 Bluewater Hwy, Ionia, MI 48846 | Michigan | Prison | 616-527-3100 | Click Here |
| Saginaw Correctional Facility | Freeland | 9625 Pierce Rd, Freeland, MI 48623 | Michigan | Prison | 989-695-9880 | Click Here |
| Special Alternative Incarceration Facility | Chelsea | 18901 Waterloo Rd, Chelsea, MI 48118 | Michigan | Prison | 734-475-1368 | Click Here |
| St. Louis Correctional Facility | Louis | 8585 N Croswell Rd, St. Louis, MI 48880 | Michigan | Prison | 989-681-6444 | Click Here |
| Thumb Correctional Facility | Lapeer | 3225 John Conley Dr, Lapeer, MI 48446 | Michigan | Prison | 810-667-2045 | Click Here |
| West Shoreline Correctional Facility | Muskegon | 2500 S Sheridan Dr, Muskegon, MI 49444 | Michigan | Prison | 231-773-9200 | Click Here |
| Women's Huron Valley Correctional Facility | Ypsilanti | 3201 Bemis Rd, Ypsilanti, MI 48197 | Michigan | Prison | 734-572-9900 | Click Here |
| Woodland Center Correctional Facility | Whitmore Lake | 9036 M-36, Whitmore Lake, MI 48189 | Michigan | Prison | 734-449-3320 | Click Here |
| Eaton County Jail | Charlotte | 1025 Independence Blvd, Charlotte, MI 48813 | Michigan | Jail | 517-543-3512 | Click Here |
| Oakland County Jail | Pontiac | 1201 Telegraph Rd, Pontiac, MI 48341 | Michigan | Jail | 248-858-1800 | Click Here |
| Oceana County Jail | Hart | 216 Lincoln St, Hart, MI 49420 | Michigan | Jail | 231-873-3967 | Click Here |
| Ontonagon County Jail | Ontonagon | 620 Conglomerate St, Ontonagon, MI 49953 | Michigan | Jail | 906-884-4901 | Click Here |
| Gratiot County Jail | Ithaca | 226 E Center St, Ithaca, MI 48847 | Michigan | Jail | 989-875-5211 | Click Here |
| Charlevoix County Jail | Charlevoix | 1000 Grant St, Charlevoix, MI 49720 | Michigan | Jail | 231-547-4461 | Click Here |
| Cheboygan County Jail | Cheboygan | 870 S Main St, Cheboygan, MI 49721 | Michigan | Jail | 231-627-3155 | Click Here |
| Clare County Jail | Harrison | 255 W Main St, Harrison, MI 48625 | Michigan | Jail | 989-539-7166 | Click Here |
| Kalkaska County Jail | Kalkaska | 605 N Birch St, Kalkaska, MI 49646 | Michigan | Jail | 231-258-5245 | Click Here |
| Baraga County Jail | L'Anse | 940 US-41, L'Anse, MI 49946 | Michigan | Jail | 906-524-6100 | Click Here |
| Barry County Jail | Hastings | 1212 W State St, Hastings, MI 49058 | Michigan | Jail | 269-948-4804 | Click Here |
| Bay County Jail | Bay City | 503 3rd St, Bay City, MI 48708 | Michigan | Jail | 989-895-4066 | Click Here |
| Benzie County Jail | Beulah | 505 S Michigan Ave, Beulah, MI 49617 | Michigan | Jail | 231-882-0052 | Click Here |
| Berrien County Jail | St Joseph | 919 Port St, St Joseph, MI 49085 | Michigan | Jail | 269-983-7141 | Click Here |
| Mecosta County Jail | Big Rapids | 225 S Stewart Ave, Big Rapids, MI 49307 | Michigan | Jail | 231-592-0156 | Click Here |
| Menominee County Jail | Menominee | 831 10th Ave, Menominee, MI 49858 | Michigan | Jail | 906-863-4441 | Click Here |
| Midland County Jail | Midland | 101 Fast Ice Dr, Midland, MI 48642 | Michigan | Jail | 989-832-6612 | Click Here |
| Washtenaw County Jail | Ann Arbor | 2201 Hogback Rd, Ann Arbor, MI 48105 | Michigan | Jail | 734-585-7247 | Click Here |
| Livingston County Jail | Howell | 150 S Highlander Way, Howell, MI 48843 | Michigan | Jail | 517-546-2445 | Click Here |
| Luce County Jail | Newberry | 411 W Harrie St, Newberry, MI 49868 | Michigan | Jail | 906-293-8431 | Click Here |
| Mackinac County Jail | St Ignace | 100 S Marley St, St Ignace, MI 49781 | Michigan | Jail | 906-643-1911 | Click Here |
| Clinton County Jail | St Johns | 1347 E Townsend Rd, St Johns, MI 48879 | Michigan | Jail | 989-227-6580 | Click Here |
| Hillsdale County Jail | Hillsdale | 165 Fayette St W, Hillsdale, MI 49242 | Michigan | Jail | 517-437-7317 | Click Here |
| Roscommon County Jail | Roscommon | 111 S 2nd St, Roscommon, MI 48653 | Michigan | Jail | 989-275-9070 | Click Here |
| Saginaw County Jail | Saginaw | 208 S Harrison St, Saginaw, MI 48602 | Michigan | Jail | 989-790-5462 | Click Here |
| Keweenaw County Jail | Eagle River | 5105 4th St, Eagle River, MI 49950 | Michigan | Jail | 906-337-0528 | Click Here |
| St. Clair County Jail | Port Huron | 1170 Michigan Rd, Port Huron, MI 48060 | Michigan | Jail | 231-745-6201 | Click Here |
| Montmorency County Jail | Atlanta | 11045 M-32, Atlanta, MI 49709 | Michigan | Jail | 989-785-2582 | Click Here |
| Muskegon County Jail | Muskegon | 25 W Walton Ave, Muskegon, MI 49440 | Michigan | Jail | 231-724-6351 | Click Here |
| Tuscola County Jail | Caro | 420 Court St #1, Caro, MI 48723 | Michigan | Jail | 989-673-8161 | Click Here |
| Crawford County Jail | Grayling | 200 Michigan Ave, Grayling, MI 49738 | Michigan | Jail | 989-348-4616 | Click Here |
| Gogebic County Jail | Bessemer | 100 W Iron St, Bessemer, MI 49911 | Michigan | Jail | 906-667-0203 | Click Here |
| Manistee County Jail | Manistee | 1525 E Parkdale Ave, Manistee, MI 49660 | Michigan | Jail | 231-723-8435 | Click Here |
| Mason County Jail | Ludington | 302 N Delia St, Ludington, MI 49431 | Michigan | Jail | 231-843-3475 | Click Here |
| Cass County Jail | Cassopolis | 321 M-62, Cassopolis, MI 49031 | Michigan | Jail | 269-445-3877 | Click Here |
| Houghton County Jail | Houghton | 403 E Houghton Ave, Houghton, MI 49931 | Michigan | Jail | 906-482-0055 | Click Here |
Unable to Locate an Inmate in Michigan
Having a friend of family member in jail can be overwhelming. The desire to write to or speak to this person can cause you to wonder where to even begin to make an effort. This is where InmatesPlus can help. First, you need certain information to be able to get addresses and send appropriate items. This starts with the state and facility in which the inmate is housed. This information can usually be found through a name search on a given facility site or this may be information you already know. The next step is knowing of finding the DOC information that is pertinent to your family member or friend. DOC information includes things like an inmate number, how to send items, and what items can be sent to a given facility. This information is important as some items are not allowed in certain facilities, but are appropriate for others. If you know and follow the rules, your friend or loved one will receive their letters, money on the books, or special items much faster. The most important thing to include, other than allowable items, is the DOC number for the inmate.
When an inmate is booked into a facility, each is given specific DOC information that includes a mugshot, a list of charges, and a DOC number, which is often called an inmate number or ID number. This number is needed for all items sent to and from the jail. This serves as a type of tracking and identification system. This number is sometimes available when searching an inmate's name on a specific facility site.
Knowing that a someone is in jail or suspecting that someone you know has landed in jail can be scary, worrisome, and traumatic whether you are a friend or a victim. This becomes even more of an issue if you are unable to locate an inmate in Michigan. There are a number of jails and prisons, so calling each one can be time consuming. You may also come back without the information that is needed because personnel are not always able to be helpful and often, calls go unreturned.
InmatesPlus has made it easier to locate an inmate in Michigan if you have been unable to do so on your own. The best place to start is with a jail that the person is most likely to be located in by clicking on the link to the specific facility. All you will need is the person's full legal name. If you are unable to locate in Michigan in this way, then try VINELink. This stands for Victim Information and Notification Everyday link. While this is a contracted third-party service it offers information that is up to date for jails and prisons in the area with little more than a person's legal name. This can be helpful when you are unable to locate an inmate in Michigan. This works to locate friends and family members, but it is also helpful in keeping track of a person's status when you have been a victim of that person. While a registration is required for VINELink, it is a free service that is confidential.