Search by Name
Pennsylvania Inmate Search
State Prison Search
PA DOC Information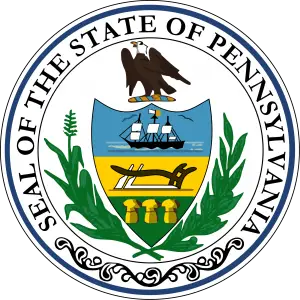 Authority: Pennsylvania Department of Corrections
Website: https://www.cor.pa.gov/
Address: 1920 Technology Pkwy, Mechanicsburg, PA 17050
Phone: (717) 728-2573
List of Jails and Prisons in Pennsylvania
| Name | City | Address | State | Type | Phone Number | Locator Link |
| --- | --- | --- | --- | --- | --- | --- |
| United States Penitentiary, Allenwood | Allenwood | Main Access Rd, Allenwood, PA 17810, USA | Pennsylvania | Federal | 570-547-0963 | Click Here |
| United States Penitentiary, Canaan | Waymart | 3057 Eric J. Williams Memorial Dr, Waymart, PA 18472, USA | Pennsylvania | Federal | 570-488-8000 | Click Here |
| United States Penitentiary, Lewisburg | Lewisburg | 2400 Robert F Miller Dr, Lewisburg, PA 17837, USA | Pennsylvania | Federal | 570-523-1251 | Click Here |
| Federal Correctional Institution, Allenwood | Allenwood | 2 US-15, Allenwood, PA 17810 | Pennsylvania | Federal | 570-547-0963 | Click Here |
| Federal Correctional Institution, Loretto | Loretto | 772 St Joseph St, Loretto, PA 15940, USA | Pennsylvania | Federal | 814-472-4140 | Click Here |
| Federal Correctional Institution, McKean | Lewis Run | 6975 PA-59, Lewis Run, PA 16738, USA | Pennsylvania | Federal | 814-362-8900 | Click Here |
| Federal Correctional Institution, Schuylkill | Minersville | INTERSTATE 81 & 901 W, Minersville, PA 17954, USA | Pennsylvania | Federal | 570-544-7100 | Click Here |
| Moshannon Valley Correctional Center | Philipsburg | 555 GEO Drive, Philipsburg, PA 16866 | Pennsylvania | Private | 814-768-1200 | Click Here |
| Federal Detention Center, Philadelphia | Philadelphia | 700 Arch St, Philadelphia, PA 19106, USA | Pennsylvania | Administrative | 215-521-4000 | Click Here |
| Albion Correctional Institution | Albion | 10745 Route 18, Albion, PA 16475-0001 | Pennsylvania | Prison | 814-756-5778 | Click Here |
| Benner Township State Correctional Institution | Bellefonte | ​301 Institution Drive, Bellefonte, PA 16823 | Pennsylvania | Prison | 814-353-3630 | Click Here |
| Cambridge Springs Correctional Institution | Cambridge Springs | 451 Fullerton Avenue, Cambridge Springs, PA 16403-1238 | Pennsylvania | Prison | 814-398-5400 | Click Here |
| Camp Hill Correctional Institution | Camp Hill | 2500 Lisburn Road, Camp Hill, PA 17011 | Pennsylvania | Prison | 717-737-4531 | Click Here |
| Chester State Correctional Institution | Chester | 500 E. 4th Street, Chester, PA 19013 | Pennsylvania | Prison | 610-490-5412 | Click Here |
| Coal Township Correctional Institution | Coal Township | ​1 Kelley Drive, Coal Township, PA 17866-1020 | Pennsylvania | Prison | 570-644-7890 | Click Here |
| Dallas State Correctional Institution | Dallas | 1000 Follies Road, Dallas, PA 18612-0286 | Pennsylvania | Prison | 570-675-1101 | Click Here |
| Fayette State Correctional Institution | LaBelle | 50 Overlook Drive, LaBelle, PA 15450 | Pennsylvania | Prison | 724-364-2200 | Click Here |
| Forest State Correctional Institution | Marienville | 286 Woodland Drive, Marienville, PA 16239 | Pennsylvania | Prison | 814-621-2110 | Click Here |
| Frackville Correctional Institution | Frackville | 1111 Altamont Boulevard, Frackville, PA 17931-2699 | Pennsylvania | Prison | 570-874-4516 | Click Here |
| Greene State Correctional Institution | Waynesburg | 169 Progress Drive, Waynesburg, PA 15370 | Pennsylvania | Prison | 724-852-2902 | Click Here |
| Houtzdale State Correctional Institution | Houtzdale | ​209 Institution Drive, Houtzdale, PA 16698-1000 | Pennsylvania | Prison | 814-378-1000 | Click Here |
| Huntington State Correctional Institution | Huntingdon | 1100 Pike Street, Huntingdon, PA 16654-1112 | Pennsylvania | Prison | 814-643-2400 | Click Here |
| Laurel Highlands SCI | Somerset | 5706 Glades Pike, Somerset, PA 15501 | Pennsylvania | Prison | 814-445-6501 | Click Here |
| Mahanoy State Correctional Institution | Frackville | 301 Morea Road, Frackville, PA 17932 | Pennsylvania | Prison | 570-773-2158 | Click Here |
| Mercer State Correctional Institution | Mercer | 801 Butler Pike, Mercer, PA 16137 | Pennsylvania | Prison | 724-662-1837 | Click Here |
| Muncy State Correctional Institution | Muncy | 6454 Route 405, Muncy, PA 17756 | Pennsylvania | Prison | 570-546-3171 | Click Here |
| Pine Grove SCI | Indiana | 189 Fyock Road, Indiana, PA 15701 | Pennsylvania | Prison | 724-465-9630 | Click Here |
| Quehanna Motivational Boot Camp | Karthaus | 4395 Quehanna Highway, Karthaus, PA 16845 | Pennsylvania | Prison | 814-263-4125 | Click Here |
| Retreat State Correctional Institution | Hunlock Creek | 660 State Route 11, Hunlock Creek, PA 18621 | Pennsylvania | Prison | 570-735-8754 | Click Here |
| Rockview State Correctional Institution | Bellefonte | 1 Rockview Place, Bellefonte, PA 16823 | Pennsylvania | Prison | 814-355-4874 | Click Here |
| Smithfield SCI | Huntingdon | 1120 Pike Street, Huntingdon, PA 16652 | Pennsylvania | Prison | 814-643-6520 | Click Here |
| Somerset Correctional Institution | Somerset | 1590 Walters Mill Road, Somerset, PA 15510-0001 | Pennsylvania | Prison | 814-443-8100 | Click Here |
| Waymart State Correctional Institution | Waymart | 11 Fairview Drive,Waymart, PA 18472 | Pennsylvania | Prison | 570-488-5811 | Click Here |
| Armstrong County Jail | Kittanning | 171 Staleys Courts Rd, Kittanning, PA 16201 | Pennsylvania | Jail | 724-545-9222 | Click Here |
| Bedford County Jail | Bedford | 425 Imlertown Rd, Bedford, PA 15522 | Pennsylvania | Jail | 814-623-2955 | Click Here |
| Berks County Jail | Reading | 633 Court Street, 3rd Floor , Reading, PA 19601 | Pennsylvania | Jail | 610-478-6240 | Click Here |
| Blair County Jail | Hollidaysburg | 423 Allegheny Street, Hollidaysburg, PA 16648 | Pennsylvania | Jail | 814-693-3100 | Click Here |
| Cambria Jail | Ebensburg | 200 South Center Street, Ebensburg, PA 15931 | Pennsylvania | Jail | 814-472-1691 | Click Here |
| Clinton County Correctional Center | McElhattan | 58 Pine Mountain Rd, McElhattan, PA 17748 | Pennsylvania | Jail | 570-769-7680 | Click Here |
| Franklin County Jail | Chambersburg | 1804 Opportunity Ave, Chambersburg, PA 17201 | Pennsylvania | Jail | 717-264-9513 | Click Here |
| Fulton County Jail | Mcconnellsburg | 207 N 2nd St, Mcconnellsburg, PA 17233 | Pennsylvania | Jail | 717-485-4221 | Click Here |
| Indiana County Jail | Indiana | 665 Hood School Rd, Indiana, PA 15701 | Pennsylvania | Jail | 724-471-7500 | Click Here |
| Jefferson County Jail | Brookville | 578 Service Center Rd, Brookville, PA 15825 | Pennsylvania | Jail | 814-849-1933 | Click Here |
| Mercer County, Jail | Mercer | 55 Thompson Rd, Mercer, PA 16137 | Pennsylvania | Jail | 724-662-2700 | Click Here |
| Northampton Jail | Easton | 669 Washington Street, Easton, PA 18042 | Pennsylvania | Jail | 610-829-6501 | Click Here |
| Northumberland Jail | Sunbury | 201 Market Street, Sunbury Pa 17801 | Pennsylvania | Jail | 570.988.4155 | Click Here |
| Potter County Jail | Coudersport | 1 East Second St., Room 24, Coudersport PA 16915 | Pennsylvania | Jail | 814-274-9350 | Click Here |
| Washington County Jail | Washington | 100 W. Beau St. Suite 303 , Washington, PA 15301 | Pennsylvania | Jail | 724-228-6840 | Click Here |
| York County Jail | York | 45 N. George Street, York, PA 17401 | Pennsylvania | Jail | 717-771-9601 | Click Here |
Unable to Locate an Inmate in Pennsylvania
There are many different reasons you may need to find an inmate. For some, a friend or family member may be incarcerated and the exact location or facility is unknown. For others who may be a victim of a crime, it can be healing to know where a person is located. If you are unable to locate an inmate in Pennsylvania for any reason then InmatesPlus can help. If you are certain of the state in which the inmate is located or the general area within a state, then InmatesPlus can provide links to those facilities all in one place. Then all you need is an inmate ID number or a legal name to look up the person. If you are unable to locate an inmate in Pennsylvania and have nothing more than a name, then help is still available. VINELink is a third party site that can help you locate an inmate no matter the state. VINELink does ask the user to register, but information remains confidential. VINELink can then search for inmates using only a legal name or inmate ID number.
If you are unable to locate an inmate in Pennsylvania, then VINELink is the best option. This can offer the peace of mind that is needed by victims or the relevant information for a family member or friend who wishes to stay in touch. The inmate's available information will be shared, including charges, a mugshot, and sentence length. At times a potential release date may also be included or an inmate status to provide further relevant information.
Having a loved one in jail or prison can bring on many feelings for those left on the outside. While no one would wish prison on anyone else, it is a sad fact of life that sometimes it happens. When the time comes for your loved one to enter prison or a loved one is being held in jail awaiting a trial or sentence, there is a great deal information that needs to be gathered. This basic information about how to keep contact with an inmate, what items can or cannot be mailed, and even how to provide extra money for the person is commonly referred to as DOC information.
DOC information can range from simple things like the mailing address and phone number to details about what information is available about a given inmate to the general public. This information is important if your loved one or friend is currently behind bars. InmatesPlus has made finding the DOC information you need much easier. Once you are aware of the facility in which your friend of loved one is housed, simply find the link on the appropriate state page on InmatesPlus. This link will allow you to look up a given inmate with an inmate ID number or a legal name and gather the information that is available to the public. This tends to include the inmate's charges, possibly a sentence, and a mugshot. Information about how to schedule a visit, add money to the books, or even how to address a letter to an inmate may also be included.