It is almost impossible to turn on the news today without hearing about a celebrity being arrested, on trial, or in some cases put into jail. Recently the charges have been about paying colleges for admittance, but there are also stories about drugs, driving drunk, abuse, and more. Celebrities garner this type of attention due to their status, but they are still held under the same laws of the land as other people. However, we do tend to see some celebrities escape imprisonment due to the ability to pay large fines, but others have to serve their time. Some of the famous people in prison that have served or are serving time will be shared below.
Celebrities who Have Served Prison Time
Suge Knight was in the rap game as a producer who was found guilty of more than poor business ethics. Knight kept gangsters on the payroll, pushed for rights to songs he had no claim to, and had other illegal dealings to keep himself on top. Knight was thought to be involved in the deaths of notorious rappers like B.I.G. and Tupac, though nothing was ever proven. His most recent conviction is for hit and run. He was caught on camera hitting a former associate with his vehicle and speeding away. He is serving time in awaiting trial with a 25 million dollar bail and has been before due to prior probation violations. If convicted he is likely to serve life in a California prison.
Bobby Shmurda an up and coming rapper in 2014 was arrested outside his recording studio accused of being a ringleader for gang GS9. He copped a plea deal to serve seven years on counts including murder, but could be out by 2020 if he can stay in line in jail. However, he has already received violations for fighting in jail and having a weapon in his cell.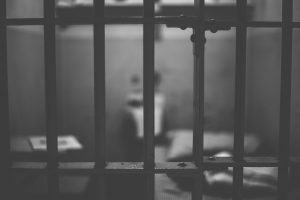 Phil Spector a music producer who was considered a true great was always considered a loose cannon in the studio. Spector met an actress, Lana Clarkson, and took her home where she ended up with a gunshot wound to the mouth. Though Spector claimed it was a drunken accident, his driver's testimony buried him in his second trial where he received 19 years to life behind bars. Spector can be seen smiling in one of his mugshots from a California prison.
Oscar Pistorius was an inspiration by being the first double amputee runner in 2012. He was known as the Bladerunner in the Olympics even though his south African team did not medal. In 2013 Pistorius shot his girlfriend through a locked door in his home. He was sentenced to five years, but appeals had him released, then that sentence was overturned and he was resentenced to another six years, even though this was light for the South African nation.
Jared Fogle was once the wholesome face of Subway restaurants having lost a great deal of weight eating only subs, but in 2007 he was the target of an investigation after recordings found he had repeatedly crossed state lines to meet with underage children for sexual encounters. During the search he was found to have a large stash of children's pornography that was provided to him by the person running his charity for children. In 2015, he was sentenced to jail for 15 years where child molesters are not well received. It can be rough being a famous person in prison.
C-Murder, Cory Miller, made a name for himself with No Limit records with the cd Life or Death. Miller unfortunately lived up to his name when he beat and shot a 16 year old fan outside a club he was performing at the time. Convicted in 2003, he served house arrest for several years. In 2009 after many delays he was sentenced to life. Though appeals have been made, the sentence has been so far, upheld.
Sam Hurd was to be an NFL star and a sterling player. Hurd was under federal investigation for drugs and when the Feds launched a sting, he was picked up in a large bust. Hurd pled guilty and was sentence to fifteen years.
Michael Jace debuted on The Shield in 2002. A regular on the show, he became popular. In May 2014, Jace called the cops himself to admit he had shot his wife of fourteen years. He had shot her in front of his sons and then texted his father in law to tell him to pick up the kids. Jace was sentenced quickly to 40 years to life and will likely die behind bars.
Shelley Malil is an India born, American raised actor who came to fame in the 40 year old Virgin. With various roles and growing popularity his dark side took over and he stabbed his girlfriend of the time 20 times. His girlfriend survived and testified against him for attempted murder where he was quickly convicted. He received a life conviction with a possibility of parole after 14 years. He showed remorse on the stand and asked to be sent to jail.
Meek Mill is a hot rapper who was imprisoned for weapons chargers for a while. After serving 7 months and then being put on probation he continually violated probation terms and once again served a short term. After further violations of positive drug tests and assault on airport patrons, he received 2 to 4 years from a judge. Fans launched a campaign to free him almost immediately, but the justice system was not willing to offer him any more chances.
Finding Inmates
While you may not be on the hunt for celebrities who are imprisoned, you may be looking for someone else. It can be tough to track down a specific inmate and the justice system is far from cooperative or information rich, unless you know where to look. InmatesPlus can help you locate your loved one and provide the information necessary to get in touch with them through mail or visits, if allowed. Visit our finding a facility page, go to the state and facility of your choice, and type in a name. The most up to date information available is provided.